DHABA CHICKEN (SPICY HIGHWAY CHICKEN)
DHABA CHICKEN (SPICY HIGHWAY CHICKEN)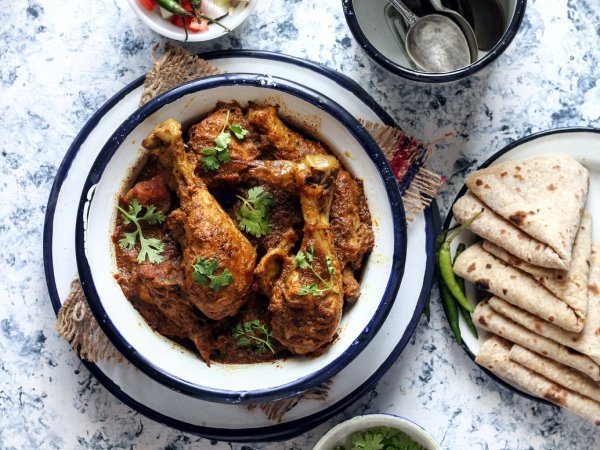 A rustic chicken curry that is popular in eateries called dhaba, especially in north of India and served mostly with naan or tandoori roti.
Ingredients
---
2-3 tbsp
mustard
or refined oil (Use mustard oil for authentic flavours)
---
---
---
---
1/2 tsp turmeric powder
---
1/2 tsp coriander powder
---
1/2 tsp chilli powder
---
1/2 tsp roasted cumin powder
---
1 tsp garam masala powder
---
1/2 tbsp yoghurt
---
3 green chillies, split in two
---
1/2 tsp dry fenugreek leaves (crushed)
---
Salt to taste
Preparation
Clean, wash and drain the chicken.
Heat a heavy bottomed pan or a wok and add the oil. If using mustard oil, smoke the oil.
Add onion and fry it till it starts turning brown in colour.
Lower the flame and add the ginger garlic paste. (I usually push aside the onion to one side and add the ginger garlic paste in the oil that drains towards the centre of the wok. Fry for a few seconds and then mix together with the onion)
Fry for a few seconds and then add the chicken.
Sear the chicken on a high flame for about 2-3 minutes and then reduce the flame to medium low.
Add the dry ingredients – turmeric, salt, coriander powder, chilli powder, cumin powder and garam masala powder.
Stir well and then add the yoghurt, crushed dry fenugreek leaves and green chillies.
Fry further for about 5 minutes on low flame.
Add 3-4 tbsp of water and cook till chicken is done.
Remove in a serving bowl and sprinkle chopped green chillies over it.
Serve with Naan or Tandoori Roti.

Note: Adjust the amount of chillies to suit your taste.
Questions:
Related recipes
Recipes