Spicy south indian chicken biryani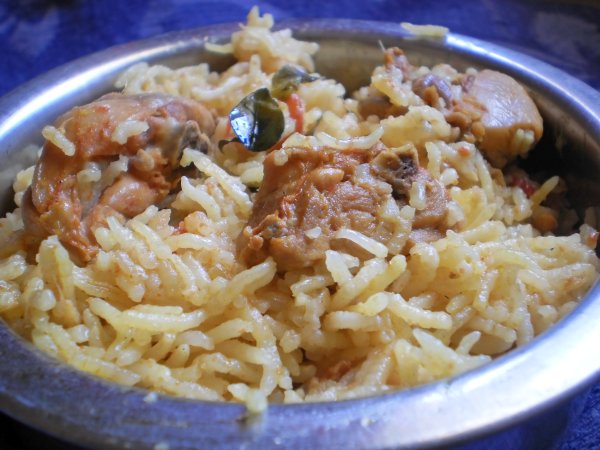 Recipe type:

Main Dish

Number of serving:

4 servings

Preparation:

5 hours

Cook time:

25 min

Ready in:

5 h, 25 m

Difficulty:

Easy
Ingredients
Basmati or Jeera
Rice
500 gm
Chicken
500 gm
Onion
(chopped) 1 nos
Tomato
(chopped) 3 nos
Green chillies 5 nos
Cinnamon
5 to 6 strips
Cardamom 6 to 10 nos
Cloves 8 to 10 nos
Fennel 1 tsp
Cashewnuts 10 nos
Garam Masala powder 1/2 tsp
Chilli powder 1 tsp
Turmeric Powder 1/2 tsp
Bay leaves 2 nos
Curd 2 tsp
Ginger garlic paste 2 tsp
Coconut milk 200 ml
Curry leaves 1 spring
Coriander leaves 1 spring
Mint leaves a few
Salt to taste
Oil 15 ml
Ghee 2 tbsp
Preparation
Step 1
1. Wash Basmati rice and soak it in 800 ml of water for 15 to 30 mins.
2. Wash Chicken and cut into small pieces. Add chilli powder, 1 tsp ginger garlic paste, curd and salt. Mix well and keep aside for 3 to 4 hours. Marinating Chicken overnight gives best taste.
Step 2
3. Heat oil in a 5 ltr pressure cooker. Add cinnamon, cardamom, cloves, cashewnuts, fennel and fry in a slow flame till the cashewnut colour changes slightly brown.
Step 3
4. Add chopped Onion, green chillies(slit vertically) and curry leaves and continue frying till the raw smell of onion subsides.
Step 4
5. Add chopped tomatoes, remaining ginger garlic paste, garam masala, turmeric powder, corinader leaves, mint leaves, salt and continue frying in slow flame till tomato get mashed well.
Step 5
6. Add chicken and continue frying till the chicken gets slightly cooked.
7. Add Basmati rice and continue frying for 2 mins.
Step 6
8. Add water which we soaked rice and coconut milk. Bring to boil and pressure cook for 8 to 10 minutes.
9. Remove from heat and transfer to a big plate.
Step 7
10. Add ghee and mix well.
11. Serve hot with kurma and raita.
Questions:
---
---
Related video
Related recipes
Recipes