Stir fry with chicken and coriander, chao men
Stir fry with chicken and coriander, chao men
Love a nice stir fry? Here is a simple recipe, full of flavors!
Ingredients
---
---
---
---
---
1 Tbsp oyster sauce
---
2 carrots
---
3 oz mushrooms
---
1/4 cabbage
---
1 cup water
---
olive oil
---
2 Tbsp corn starch
---
7 oz noodles
Materials
Pan
---
Pot
---
Preparation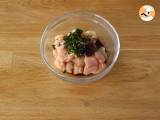 Step 1
In a bowl, put the chicken cut into pieces, the crushed garlic clove and ginger, the chopped cilantro, the soy sauce and the oyester sauce. Stir well and put in the fridge for 1 hour at least.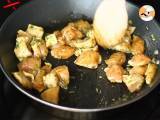 Step 2
In a sauté pan, heat some olive oil, and sauté the chicken.
Step 3
Once the chicken starts to be cooked, add the carrots, sliced into strips, the thinly sliced cabbage and the mushrooms. Cook for 5 minutes.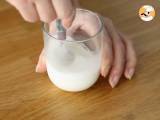 Step 4
Add 1 cup water in the pan and leave to cook for 15 minutes at medium heat. Meanwhile, put the corn starch in some water and mix well.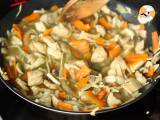 Step 5
Then, add this to the pan, and stir quickly, the sauce will get thicker. Take out of the heat.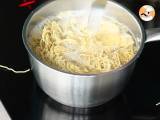 Step 6
Bring some water to a boil in a pot. Put the noodles in, stir with a fork, cover the pot and take out of the heat. Leave 4 minutes before straining the noodles.
Step 7
There you are, your chicken stir fry (chao men) is ready!
---
---
Related recipes
Recipes
Related articles