Vegetarian noodles with madras curry powder
Vegetarian noodles with madras curry powder
By
KitchenAdda

A delicious pasta recipe for vegetarians.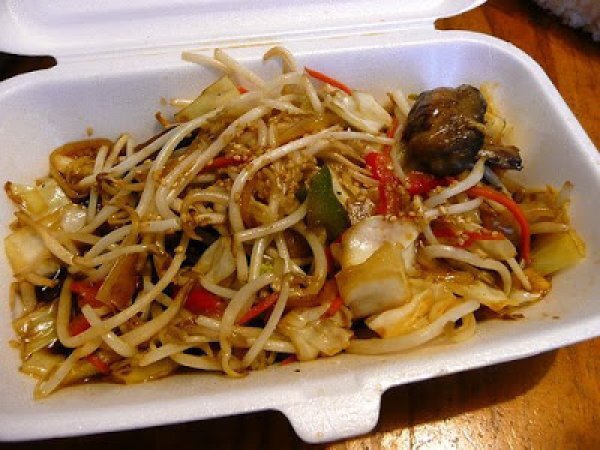 Recipe type:

Main Dish

Number of serving:

4 servings

Preparation:

15 min

Cook time:

10 min

Ready in:

25 min

Difficulty:

Very Easy
Ingredients
- 1 1/2 tablespoons minced
garlic
- 1 tablespoon minced fresh ginger
- 1 1/2 tablespoons
curry
powder, preferably Madras
- 1/4 cup vegetarian broth (or see note)
- 3 tablespoons soy sauce
- 1/2 teaspoon sugar
- 1 teaspoon
salt
- 1/4 teaspoon ground black pepper
- 1 1/2 tablespoons corn oil or safflower oil
- 2 1/2 cups very thinly sliced red onion
- 2 cups thinly sliced red bell pepper
- 4 cups thinly sliced napa cabbage
- 1/2 pound drained rice stick
noodles
softened in hot water
Preparation
Step 1
To make the curry seasonings, mix together the garlic, ginger and curry powder. Set aside.
Step 2
To make the basic Chinese sauce, mix together the broth, soy sauce, sugar, salt and pepper. Set aside.
Step 3
Heat a wok or heavy skillet over high heat. Add the oil and heat until very hot, about 30 seconds.
Step 4
Add the curry seasonings and stir-fry until fragrant, about 10 seconds. Add the red onions and stir-fry for about 1 minute, until barely tender.
Step 5
Add the red peppers and stir-fry for 1 minute, then add the cabbage and cook for 2 to 3 minutes, until all are crisp-tender.
Step 6
Add the basic Chinese sauce and the noodles and carefully toss to mix. Cook, stirring, for 30 seconds.
Step 7
Transfer to a serving dish and serve hot or at room temperature.
Questions:
By
KitchenAdda

---
---
Related video
Related recipes
Recipes
Related articles
Impress your friends with these St Patrick's day recipes!