Dulce de Leche Cake
Ingredients
Estimated cost:
4.4
€
(0.55€/serving)
Preparation
Preheat oven to 350 degrees. Prepare (2) 9 inch pans, covering the bottom of each pan with a circle of parchment paper and spraying with nonstick spray. Mix dry ingredients in large bowl with a wire whisk, and set aside.
Pour milk, egg whites and vanilla into a smaller bowl and whisk until combined. Add butter to dry ingredients, and mix with electric mixer on medium speed until mixture resembles crumbs.
Add all but 1/4 cup of milk mixture, and beat on high speed with hand mixer (medium if you're a bigshot with a stand mixer) for 1 1/2 minutes. Scrape down sides of the bowl, add the remaining milk, and beat for an additional 30 seconds. Pour batter into pans, filling 2/3 of the way full.
Bake cakes at 350 degrees for 23-25 minutes, or until a toothpick inserted into the center of the cake comes out clean. Remove from oven, and cool in pans on wire racks for 20 minutes.
Turn layers out of pans onto a baking sheet lined with plastic wrap, and place in freezer for 30 minutes. Remove from freezer, and wrap each cake in 3 layers of plastic wrap, and place back in freezer until ready to use.
Dulce de Leche Filling:
Pour contents of can into large glass bowl, and cover with plastic wrap. Turn back a little of the plastic wrap on one side of the bowl to vent excess steam. Microwave on 50% power for 2 minutes, remove from microwave and stir with wire whisk. Recover with plastic wrap, and microwave for an additional 2 minutes on 50% power. Stir again, and recover. In 2 1/2 minute intervals, continue microwaving for 7 1/2-10 minutes. Remove after each 2 1/2 minute interval and stir well. Mixture will bubble up and become thicker and more caramel colored with each stirring.
Caramel Buttercream Frosting:
Do not make this frosting until you are ready to use it immediately. Melt butter in small saucepan over medium-low heat. Add brown sugar and cream. Continue cooking until sugar is melted, stirring constantly. Remove from heat and stir in vanilla. Pour into large mixing bowl. Add powdered sugar in small batches while mixing on low speed with electric mixer. Mix until smooth. If frosting is too thick, add 1 tablespoon heavy cream to thin.
Cake Assembly:
Remove first layer from freezer, unwrap, and place on cake board. Level with serrated knife if necessary. Spread a thick layer of Dulce de Leche filling on top of this layer. Top with second cake layer, and press down. If you have filling squishing out between the layers, run an offset spatula around the edge to smooth. Apply a thin layer of Caramel Buttercream Frosting as a crumb coat, and place the cake in the fridge for 15 minutes to set. This layer of frosting doesn't have to be perfect, or even pretty...It's just there to trap any loose crumbs and keep them from getting stuck in your final layer of frosting. Set aside frosting for piping, if desired. Use the remaining Caramel Buttercream to frost the top and sides of the cake. Run your spatula under hot water, dry, and smooth. Repeat until cake is smooth and pretty! Pipe decorations on top and around the bottom of cake, if desired.
Nutritional informations:
for 1 serving
/
for 100 g
Carbo:

120.2g

Total fat:

24.8g

Saturated fat:

15.6g

Proteins:

7.1g

Fibers:

0.6g

Sugar:

114g

ProPoints:

20

SmartPoints:

40
Photos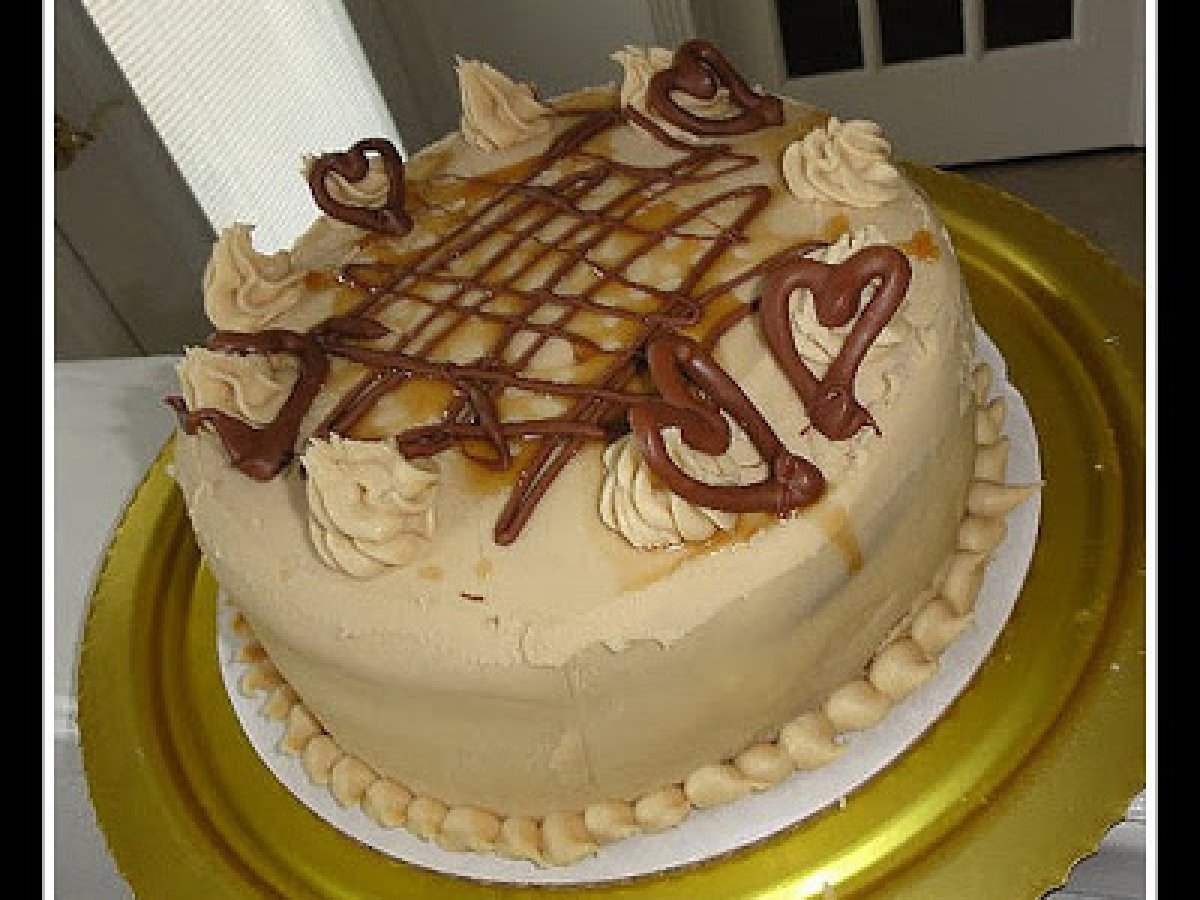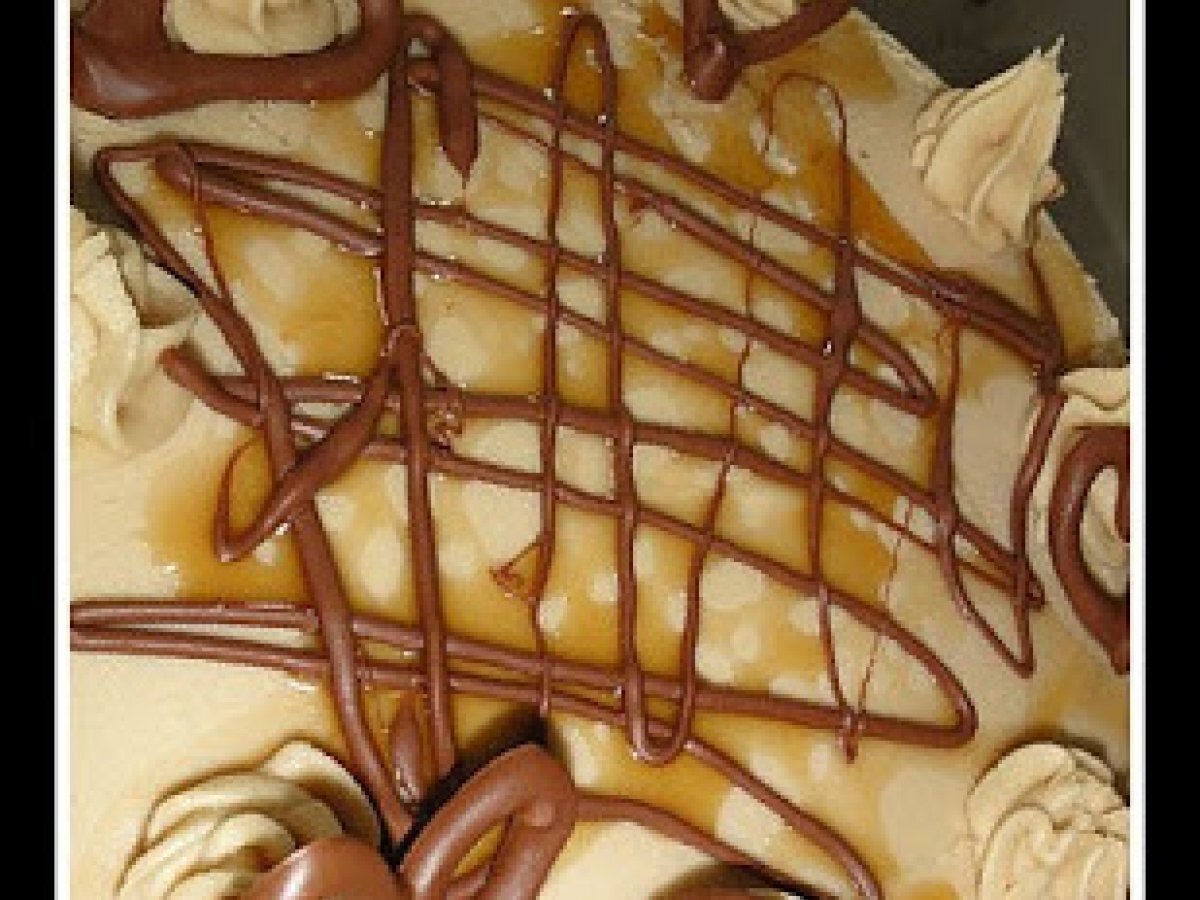 Questions:
You may like
Recipes
Related articles