Grapefruit vanilla cake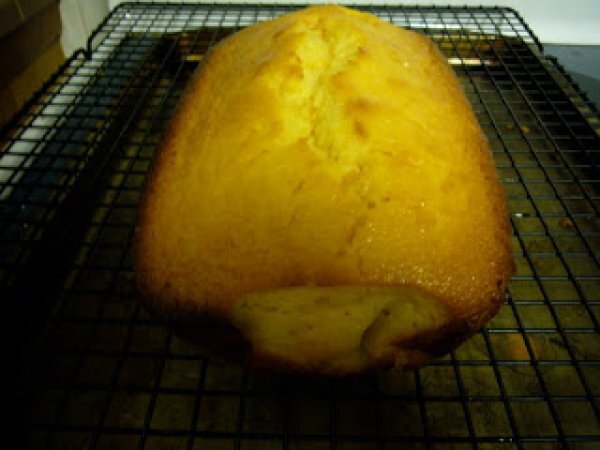 Recipe type:

Other

Number of serving:

8 servings

Preparation:

15 min

Cook time:

65 min

Ready in:

1 h, 20 m

Difficulty:

Very Easy
Ingredients
- 1 1/2 cups all-purpose flour
- 2 teaspoons baking powder
- 1/2 teaspoon kosher
salt
- 1 cup plain whole-milk
yogurt
- 1 cup plus 1 tablespoon sugar
- 3 extra-large
eggs
- 3 teaspoons grated
grapefruit
zest (approximately one large grapefruit)
- 1/2 teaspoon pure
vanilla
extract
- 1/2 cup vegetable oil
- 1/3 cup freshly squeezed grapefruit juice
For the glaze:
- 1 cup confectioners sugar
- 2 tablespoons freshly squeezed grapefruit juice
Preparation
Step 1
Preheat the oven to 350°F. Grease an 8 1/2 by 4 1/4 by 2 1/2-inch loaf pan. Line the bottom with parchment paper. Grease and flour the pan.
Step 2
Sift together the flour, baking powder, and salt into 1 bowl. In another bowl, whisk together the yogurt, 1 cup sugar, the eggs, grapefruit zest, and vanilla. Slowly whisk the dry ingredients into the wet ingredients.
Step 3
With a rubber spatula, fold the vegetable oil into the batter, making sure it's all incorporated.
Step 4
Pour the batter into the prepared pan and bake for about 50 minutes, or until a cake tester placed in the center of the loaf comes out clean.
Step 5
Meanwhile, cook the 1/3 cup grapefruit juice and remaining 1 tablespoon sugar in a small pan until the sugar dissolves and the mixture is clear. Set aside.
Step 6
When the cake is done, allow it to cool in the pan for 10 minutes. Carefully place on a baking rack over a sheet pan. While the cake is still warm, pour the grapefruit-sugar mixture over the cake and allow it to soak in. Cool.
Step 7
For the glaze, combine the confectioners sugar and grapefruit juice and pour over the cake."
Questions:
---
---
Related video
Related recipes
Recipes
Related articles
How to use vanilla?