Homemade chocolate covered marshmallow pretzel pops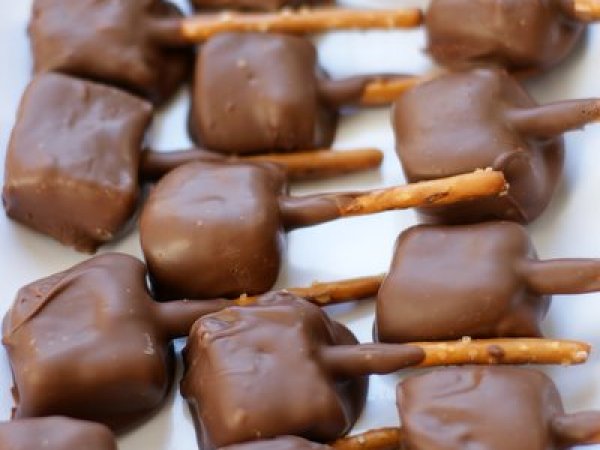 Preparation
In your stand alone mixer bowl or a large bowl, sprinkle the gelatin over 1/2 cup of cold water and allow to soften, set aside.
In a clean bowl, whisk egg whites using a hand held mixer, stand alone mixer or by hand until they just hold stiff peaks. Set aside.
In a 3 quart saucepan cook the sugar, salt, corn syrup and 1/2 cup of the cold water over low heat and allow the sugar to dissolve, stirring with a wooden spoon.
Once the sugar has dissolved increase heat to medium and bring mixture to a boil, without stirring until your candy thermometer reaches 240º, about 12-15 minutes or a bit more.
Remove from heat and pour over gelatin mixture, stirring until gelatin is dissolved. Beat mixture on high until white, thick and tripled in volume, about 10 minutes. Set aside.
Oil an entire 13x9x2 inch baking pan and then using a mesh sieve dust the entire pan with confectioners sugar evenly and generously.
Beat the egg whites & vanilla into the sugar mixture until combined. Pour mixture into your baking pan.
Sift 1/4 cup of confectioners sugar evenly on top. Chill uncovered for at least three hours, and up to one day. When firm, take a thin knife around the edges and invert pan and gently take hands and loosen the marshmallow.
Trim edges with a large knife and cut into desired size, place back into the baking pan dust with confectioners sugar shake off access sugar and store in a tightly sealed container.
Questions:
You may like
Recipes
Related articles