Lemon and sour cream pound cake with homemade lemon curd
By
StaceyRider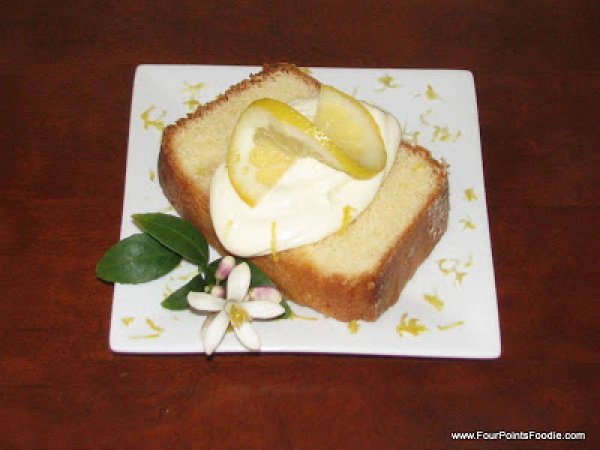 Recipe type:

Other

Number of serving:

2 servings

Preparation:

15 min

Cook time:

20 min

Ready in:

35 min

Difficulty:

Very Easy
Ingredients
- 3 C cake flour
- 1/2 t baking soda
- 1/2 t
salt
- 1 C or 2 sticks unsalted
butter
, room temperature
- 3 C sugar
- 6
eggs
, room temperature
- 1/2 C fresh
lemon
juice
- 2 T grated lemon peel
- 1 C sour cream
- 2 C sugar
- 6 large eggs, lightly beaten
- 1/4 C grated lemon rind
- 3/4 C fresh lemon juice
- 3/4 C butter, room temperature
Preparation
Step 1
Preheat oven to 325 degrees. Grease 2 loaf pans and then dust with flour, set aside. Sift flour, soda and salt together in a medium bowl. In a mixer, beat butter until fluffy. Add sugar and continue to beat for 5 minutes. Add eggs, one at a time, beating until combined after each one.
Step 2
Add lemon juice and lemon peel. Next beat in flour, about 1/2 C at a time, until incorporated. Gently mix in sour cream and transfer batter to pans. Bake for 1 hour 20 minutes or until inserted toothpick comes out clean. Cool for 15 minutes then turn out of pan.
Step 3
In a double boiler, add sugar, eggs, lemon rind and lemon juice. Cook, stirring constantly, until mixture thickens and coats the back of your spoon. Add butter, one tablespoon at a time and whisk until blended. Chill, then garnish each piece of pound cake the with curd.
Questions:
By
StaceyRider

---
---
Related video
Related recipes
Recipes
Related articles