Oats corn adai
By
kamalarsn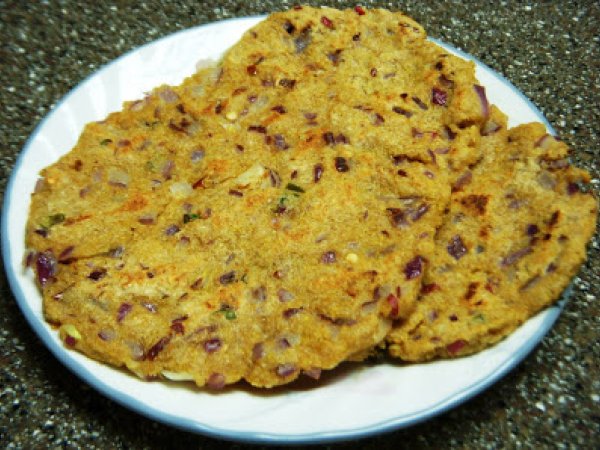 Recipe type:

Other

Number of serving:

4 servings

Preparation:

20 min

Cook time:

25 min

Ready in:

45 min

Difficulty:

Very Easy
Ingredients
-
Oats
- 2 cups
- Corn Flour - 4 tablespoons
- Red
Chilli powder
- 1/2 teaspoon
- Red Chillies - 2 to 3
- Asafotida powder - a pinch
-
Turmeric
powder - a pinch
-
Onion
chopped finely - 1/2 cup
-
Curry
leaves - few
- Salt - 1 teaspoon or as per taste
- Oil - 4 to 5 teaspoons
Preparation
Step 1
In a dry kadai put the oats and fry till hot to touch. Cool it and powder it coarsely.
Step 2
Add corn flour, red chilli powder, asafotida powder, turmeric, red chillies broken into tiny bits, salt along with onion and curry leaves chopped finely. Mix thoroughly.
Step 3
Sprinkle water little by little and make a dough. Make orange size balls. For the above quantity, you can get approx 6 balls.
Step 4
Heat tawa and grease it. In a plastic sheet, keep one ball and pat with your fingers and spread it round. Gently peel it from the sheet and put it in the tawa and pour little oil around it. Cook both sides.
Related recipes
Questions:
By
kamalarsn

---
---
Recipes