Sfogliatelle or Cannoli: The Ultimate Italian Pastry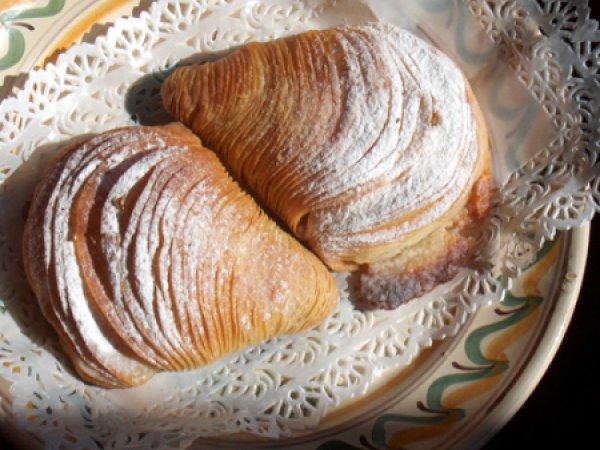 Preparation
Melt the honey with water.
Put the flour into a food processor and add the suet, salt and mix until it crumbles. Add the honey/water mixture a little at a time until the dough forms into a ball. Knead the dough until it is smooth and elastic.
If making the dough by hand, put the flour in a large bowl or on a wooden board. Make a well in the middle and add the suet, salt, honey and water.
Mix with your hands until you form a ball. Knead the dough until it is smooth and elastic. Wrap the dough in plastic wrap and store it in the refrigerator until you are ready to use it.
Roll out thin strips of the dough in the pasta machine. Make several equal strips in length of at least 40 . The strip should be the thickness of 1/16? or less.
With care, lightly but lavishly brush the suet onto each strip. In doing this, you must be very careful that the strips are not stretched or torn. Never use flour.
Place 3 of the greased strips on top of each other. Tightly roll up the strips toward you. You will find that the fat will begin to melt. Continue with this process until you have rolled up all the strips.
You will then have a coil of approximately 12 in length and 3 in diameter; you will find that the suet has melted somewhat. Cover the cylinder with plastic wrap. Put it in the refrigerator for 24 hours.
If using a pasta machine your strips are not going to be the same size, they will be the width of the pasta machine. This is not a problem; just follow the recipe directions in the same way.
Questions:
You may like
Recipes