Super healthy multigrain roti / chapati (indian flat bread)
Super healthy multigrain roti / chapati (indian flat bread)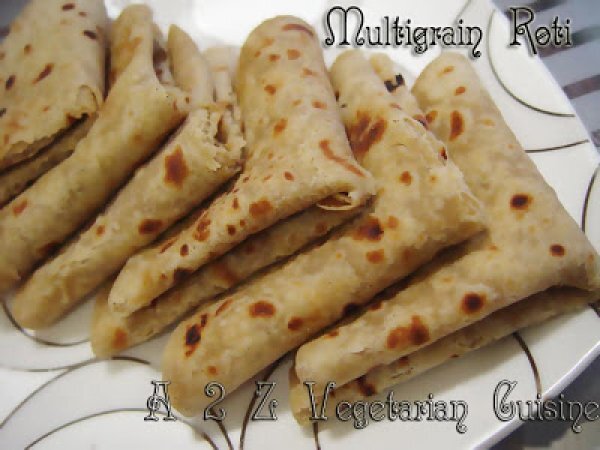 This multigrain roti is very nutritious, and very good to have a control your weight as well as its not mere carbohydrates.
Ingredients
1 cup Whole Wheat flour
---
1/4 cup Millet Flour
---
---
1/4 cup Sorghum Flour
---
1 tablespoon Soyabean Flour
---
1 tablespoon sesame seeds (made into powder)
---
2 teaspoons Ajwain seeds (made into powder)
---
1 teaspoon Methi seeds (made into powder)
---
1/4 teaspoon
salt
Lukewarm water (Use as needed to make semi-soft dough)
---
5 teaspoons melted ghee (clear butter)
---
1/2 cup whole-wheat flour for rolling ( use more as needed)
Preparation
Mix flours, salt and water together to make a semi-soft dough (towards stiff becos adding millet flour will automatically make dough softer so avoid adding more water)
Knead the dough on a lightly greased surface to make the dough smooth and pliable. Set the dough aside and cover or atleast 10-15 minutes.
Divide the dough into 12 equal parts. Make smooth ball and press flat between your palms. Take 1 ball; press it in dry flour from both sides.
Roll in to a 6-inch circle. If the dough sticks to the rolling pin or rolling surface, lightly dust the roti with dry flour. Heat the iron/nonstick skillet on medium high heat. & place the roti over skillet.
Let it cook for about 30 secs, once you see the roti has started puffing, flip it on the other side and let it cook. Flip again after a few seconds, now with a flat spatula and press lightly on the puffed parts of the roti. This will help the roti puff.
The roti should have light golden-brown spots on both sides.
Butter the roti, and store it in a container with a paper towel, which will keep the rotis soft. Goes best with Moong Dal With Spinach or any dal/vegetable of your choice.
Questions:
Related recipes
Recipes