Halloween molang biscuits
Halloween Molang biscuits
These Molang biscuits are so cute you will never want to eat them !
Ingredients
Estimated cost:
1.79
€
(0.22€/serving)
Preparation
In a bowl, knead the sugar and the softened butter together. When the mixture has a smooth texture, add an egg.

Then, add the flour gradually and knead until it forms a dough. Shape it to form a sphere. Put this sphere in plastic foil in the fridge for 1 hour.

Preheat your oven to 350°F. Spread the dough until it is 1 centimetre thick. Put the stencil on it and cut the shapes on the dough.

Put the forms on a baking tray and let them chill in the fridge for 10 to 15 minutes. Then, put them in the oven for 12 minutes at 350°F.

To decorate them, the biscuits have to be cold. Prepare the glaze. Mix one egg white until the texture is frothy. Add the icing sugar gradually. The texture has to look like a toothpaste.

Divide this mix to create different colors. For the white color, use this mix.

To create the contours, you will have to add some drops of water to the glaze so it becomes a bit more liquid.

To create the orange of the balloon, add 3 drops of orange food coloring. To create the color of the pumpkin balloon, add 3 drops of orange food coloring again. To create their eyes, add a drop of black food coloring.

To create Molang contour, add 2 drops of black coloring to the last mix. Use a piping bag to glaze your biscuits.

Let your biscuits dry between each layer of glaze. Use a wooden pike to spread the glaze. Pierce the bubbles of top.

There you are, your Molang biscuits are ready for Halloween !
Observations:
To do the glaze :

This glaze recipe is for making the biscuits contours and details . To fill the contours you will have to add some drops of water in it so it becomes a bit more liquid.

Use a wooden stick to spread the glaze and make the details.

Let the glaze dry before drawing on it again.

Don't forget to pierce the bubbles on top of your biscuits before letting them dry.

You can use a piping bag with a thin nozzle or cut a small hole in the piping bag.
Nutritional informations:
for 1 serving
/
for 100 g
Nutrition:
Nutritional information for 1 serving (101g)
Carbo:

65.8g

Total fat:

12.3g

Saturated fat:

7.6g

Proteins:

5.1g

Fibers:

1.2g

Sugar:

45.3g

ProPoints:

11

SmartPoints:

19
Photos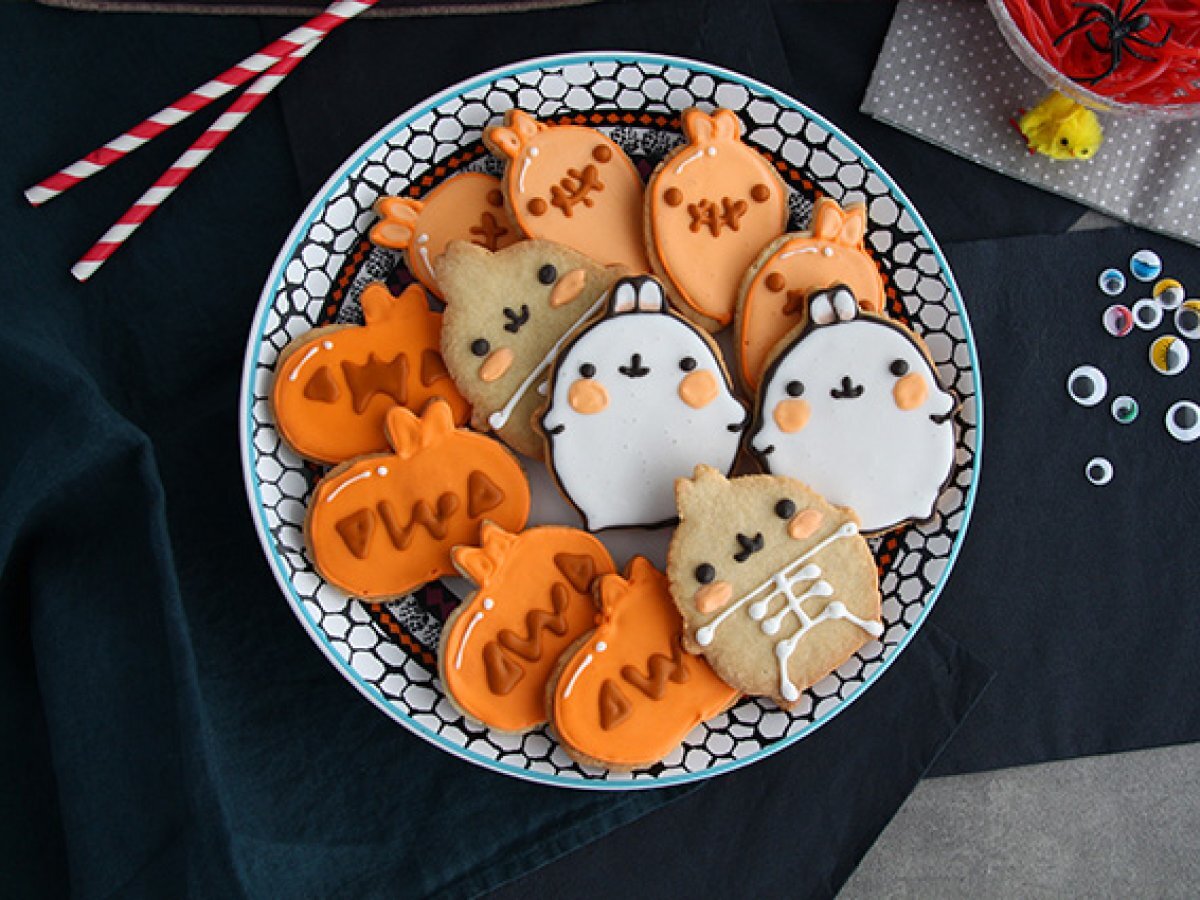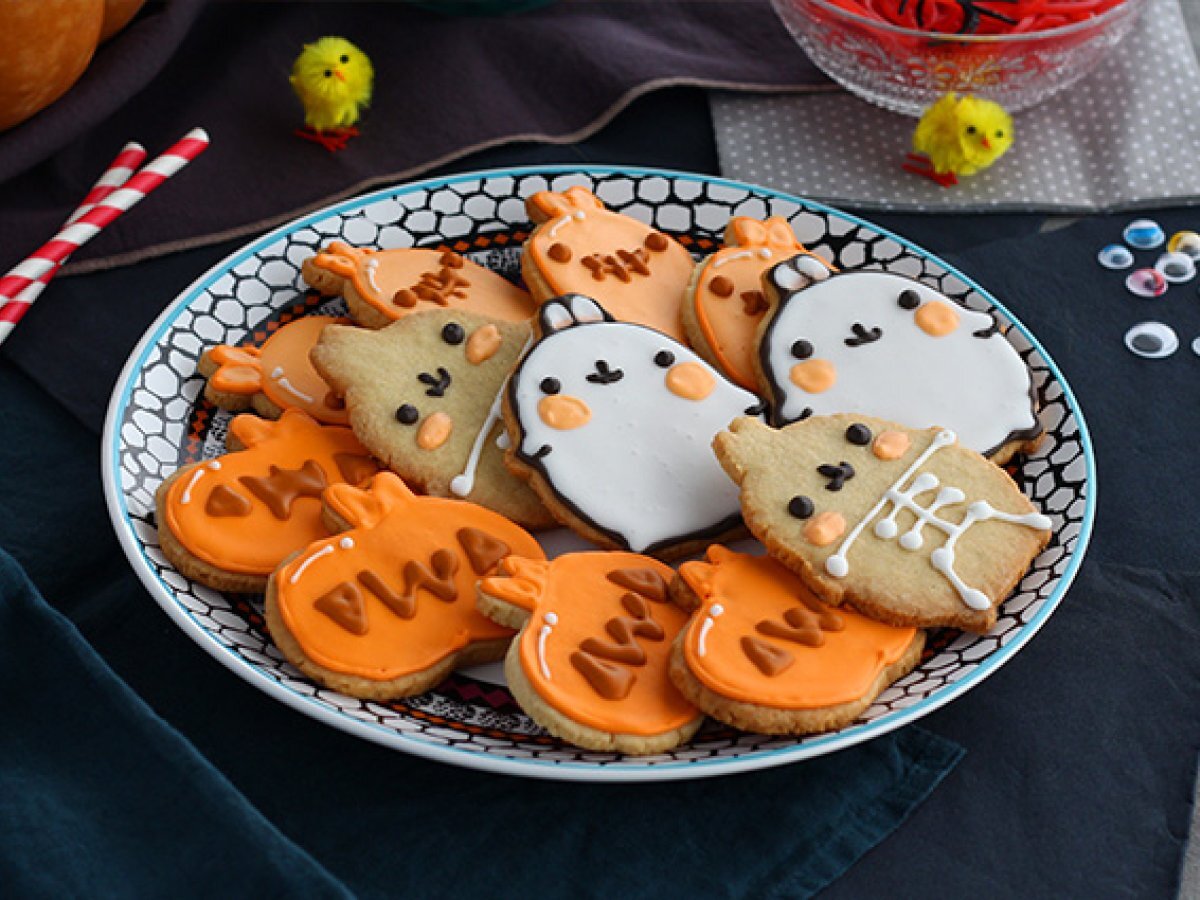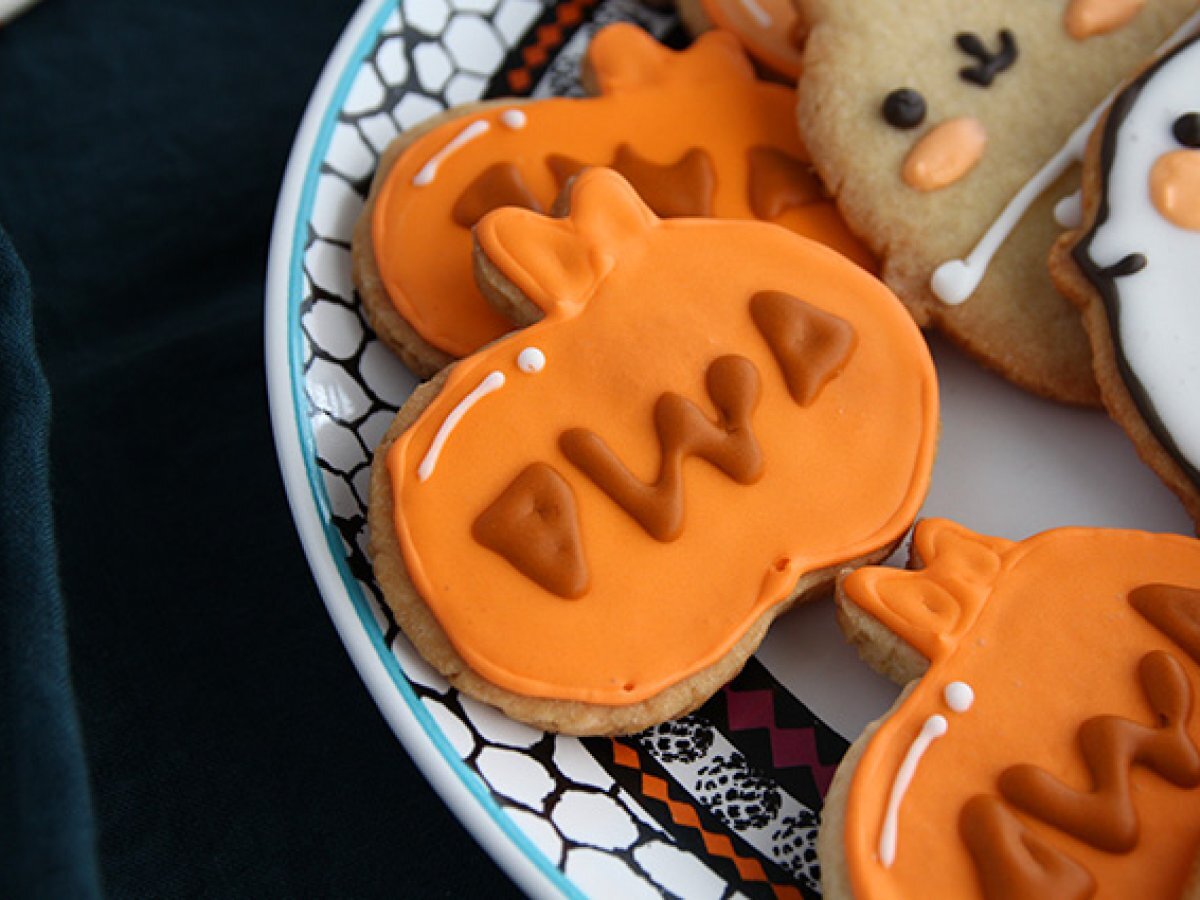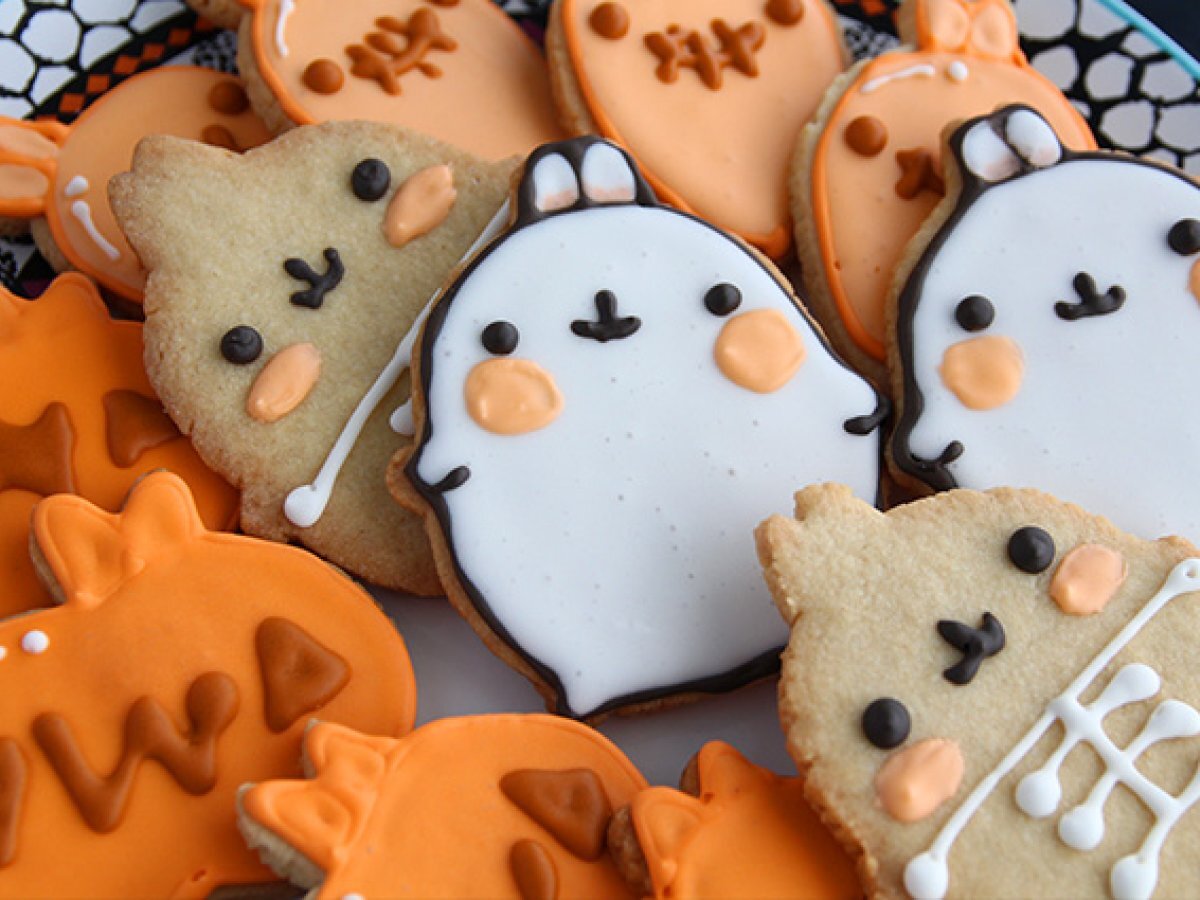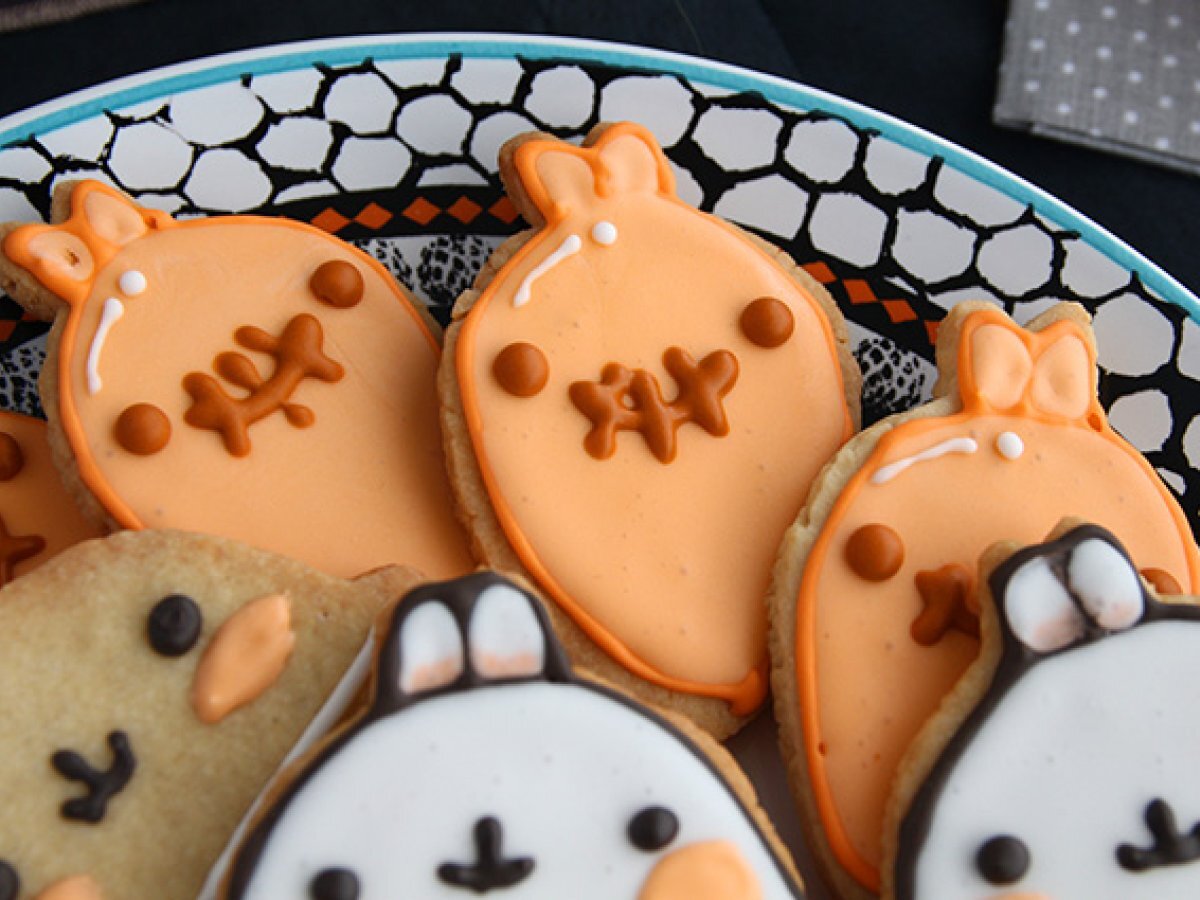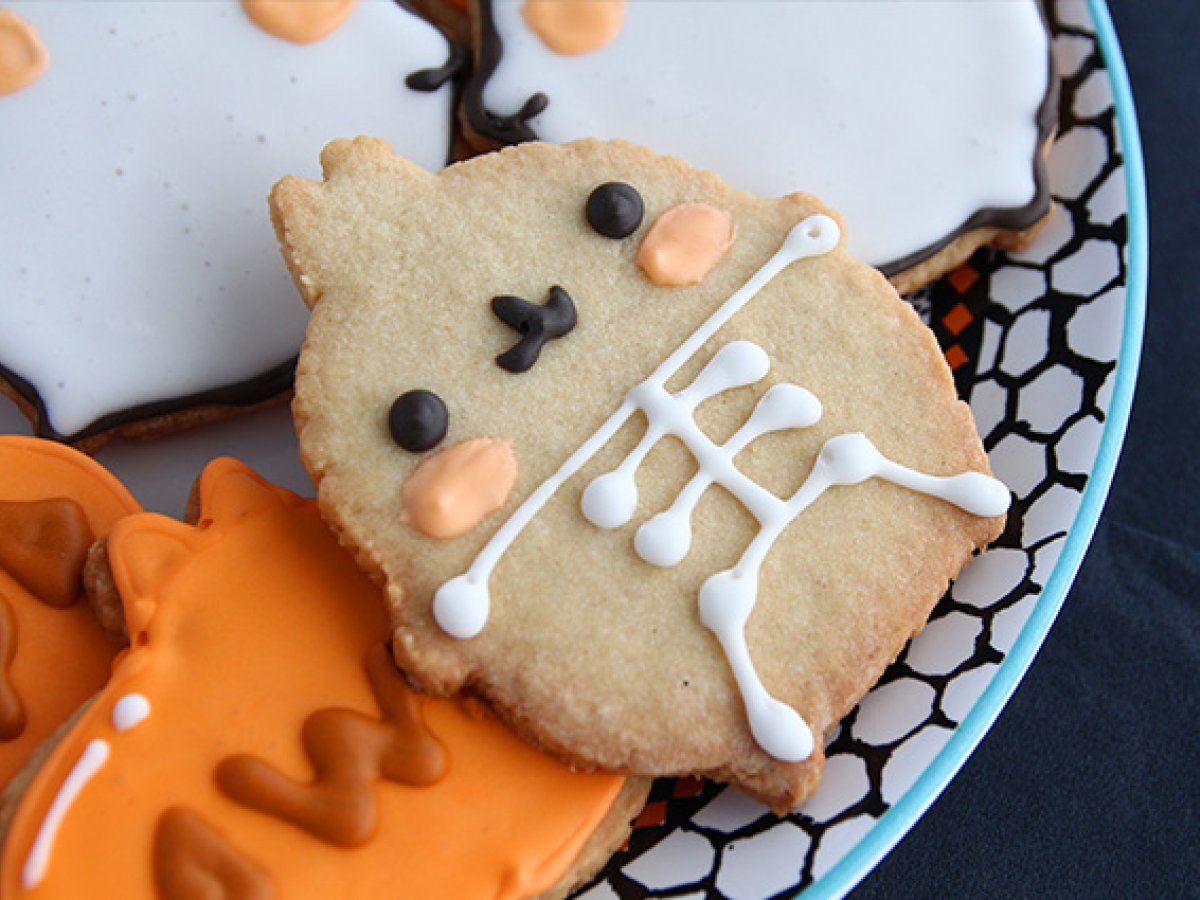 Questions:
Hi, excuse me but where can I download the template? I want to try the recioe but I can't find the photos used in the vieo.
Answer:
Hi, You can now download the template by clicking on the "Molang template" in the material list!
You may like
Recipes