Its been ages since I made Puliyodharai (Tamarind Rice, Puliyogare, Pulihora etc etc ) – in the authentic traditional way. Actually echoing my better half's smart pants comment 'In fact I don't remember having made it at all!' (#$#). Have to say, its not true – I do recall making this couple of years ago and then gave up cos for me it was hassle! Prepare the spiced tamarind paste and then mix it with rice and temper it with few more spices and blah and blah some more! Well, I don't call myself lazy without reason. For those who thought "What, its not that difficult?!!!" – well its not in the strictest sense. I will tell how.
When you have a remarkable cook for a mother – it can be a boon as well as a sore point! She is so good that she measures through her instincts!
(Frantic phone call) – *ringggg…."
Mum
: "Hello?.."
Me
: "mom…..its meeeeeee!"
Mum
: " Tell me sweetie…"
Me
: " I am thinking of making this  (traditional recipe)..give me measurements…"
Mum
: "Oh thats easy – take bengal gram, take rice, take…. (6 more things), cook (this and that) this way, make sure that it cooks well and reddens nicely, grind that – the house should be filled with aroma at this point..and serve it(in some manner)
Me
: (all excited) wow! sounds great – now give me the recipe, I will write it down.
Mum
: "What were you doing all this while I was telling you the recipe???????????"
Me
: (flabbergasted) but..but..you told me the directions – you did not give me the measurements!! How much of each should I use…
Mum
: (hesitating)..aaah! Cant you figure it out while you are cooking??? mmm..Let me try – Take a handful of (3 ingredients), pinch of (2 more ingredients), you can eye ball (the remaining 3). I just put it while cooking! Who knows all these measurements..
Me
: ………………………………
Mum
: "What happened? Are you still around?"
Me
: "What in God's name am I supposed to say? How am I going to make this if you dont give me proper measurements?!!!!!! Its your duty as a mom to give me correct measurements!"
Mum
: "And it was your duty as a daughter to learn cooking when I asked you zillion times to!!! Working was a convenient excuse then, now see this is what happens….."
Me
: "…………………………"
Mum
: "…………………………"
And this is how our conversation ends (or carries on if topic changes…;)) Only God knows how with all her "handful", "pinch", "dash" measurements, her dishes always turn out to be mindbogglingly delicious! My "pinch" and "dash" only results in making throwing away the dishes a "cinch" and getting me verbal "bash"es!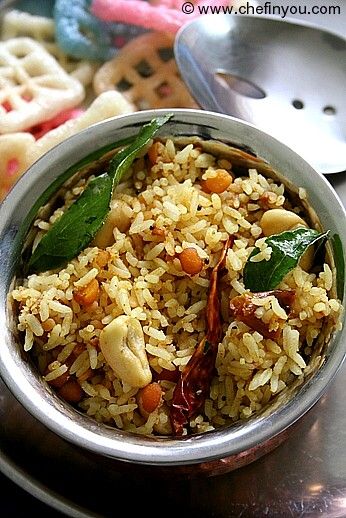 Hence blindly making the Tamarind paste was not in my 'to-do list'. But with Pongal festival making an appearance soon, I thought of trying it again and this time, my mom instead of giving me her dashes and pinches recipe – gave me a recipe from a famous cook who specializes in Iyengar cooking for marriages. Iyengar community specializes in this rice and is famous among South Indians (and few North Indians too!!) There are like 100,000 variations of this rice and this is one among many! Again she included elements of the eyeballing – though I have tried to work around it and given you measurements – I would appreciate if you could use your discretion while making this recipe. But I have to warn you – this is a cholesterol heaven (or should it be hell?!) and if you think the measurement of the oil that I gave is typo – no it isn't. In fact I have tried to be conservative here!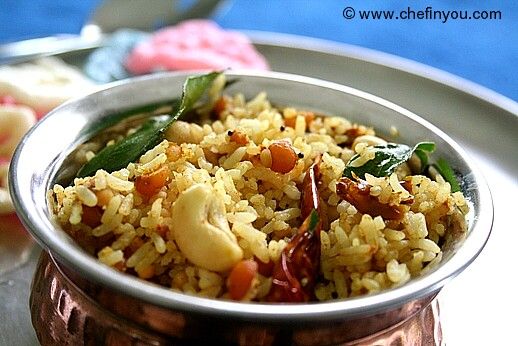 Other South Indian Rice recipes:
Lemon Rice, Kadambam Rice,  Bisibela Bath, Ven(Khara) Pongal, Hyderabad Biryani(...)
Read the rest of South Indian Tamarind Rice at Chef In You
© DK for Chef In You, 2010. |
Permalink |
12 comments |
Add to
del.icio.us
Post tags: cashews, coriander seeds, curry leaves, fenugreek seeds, peanuts, red chillies, sesame oil, tamarind