Chicken tikka(grilled or deep fried)
Chicken tikka(grilled or deep fried)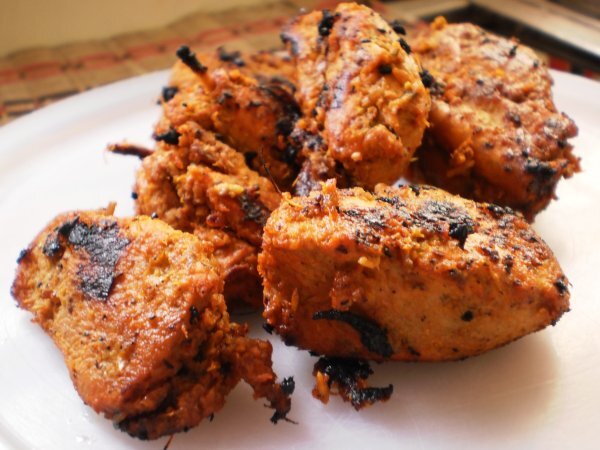 Chicken Tikka is a traditional and popular dish in India and all over the world. Chicken tikka is prepared with boneless chicken marinated in curd and ground spices mix and deep fried or grilled in tandoori oven or OTG. Marinating for a long time around 8 to 12 hours gives a best taste as the chicken absorbs spices well. A tasty starter served in most of the Indian restaurants, hotels and highway dhabas serving north Indian food. Highway dhabas are more famous for chicken tikka and other tandoori dishes.Try
Preparation
1. Cut chicken into small cubes, wash nicely and apply lemon juice and salt to it
and leave it.
2. Whisk Curd/Yogurt in a bowl add remaining ingredients except butter.Mix well and add chicken pieces and marinate for about 3 - 4 hours in the refrigerator.
3. Put the chicken on to skewers and cook in moderately hot tandoor oven for about 6 to 8 minutes, baste the chicken pieces with butter and again put in to tandoor oven and cook until slightly colored and cooked.
4. Remove and serve hot sprinkled with chaat masala.
Questions:
You may like
Recipes