Potato pavé
Potato Pavé
Preparation
Preheat the oven to 350 F. Pour the cream into a large bowl and season with 1 teaspoon of salt and ½ teaspoon pepper. Peel the potatoes. Cut a thin lengthwise slice off one side of a potato so it will rest flat on the mandoline.
Lay the mandoline slicer over the bowl of cream and slice the potato lengthwise into very thin (about 1/16 inch) slices, letting them drop into the cream. Stop from time to time to toss the slices in the cream to keep them coated and prevent them from oxidizing. Repeat with the remaining potatoes.
Brush a 10 x 6 ½ x 3-inch loaf pan with half the softened butter. Line with parchment paper, leaving 5-inch overhang on the 2 long sides. These extensions will be used to cover the potatoes as they cook and later serve as handles when unmolding. Brush the parchment with the remaining softened butter and sprinkle with salt and pepper. Trim the potato slices to form a solid even layer in the bottom of the pan and lay them in the direction that works best to fill the pan. Repeat to form a second layer.
Dot with a few cubes of butter and sprinkle lightly with salt and pepper. Continue layering the potatoes, adding butter and seasonings after each two layers. Fold over the sides of the parchment to cover the potatoes. Cover tightly with a piece of aluminum foil (to allow the potatoes to steam as they bake).
Bake the potatoes for 1-½ hours, or until completely tender when pierced with a tip of a knife or a wire cake tester. Remove from the oven and let cool for 15 minutes. Put a weight on top of the potatoes, cool to room temperature, wrap well and refrigerate for at least 6 hours, or up to 2 days.
To serve, run a palette knife around the two longer sides of the pavé to release from the pan, and use the parchment handles to lift the potatoes from the pan, or invert onto a cutting surface. Trim all sides of the pavé. Cut the pavé into 12 equal pieces (or any size of your choice) and let it sit at room temperature for 30 minutes.
Heat some canola oil in a large frying pan over medium-high heat. Add the potatoes cut side down, add the thyme and garlic, and cook, basting with the liquid in the pan, until browned on the first side, then turn carefully and brown the opposite side. Arrange the potatoes on a serving platter, browned side up. Put a small piece of butter on each piece to melt, and sprinkle with chives.
Photos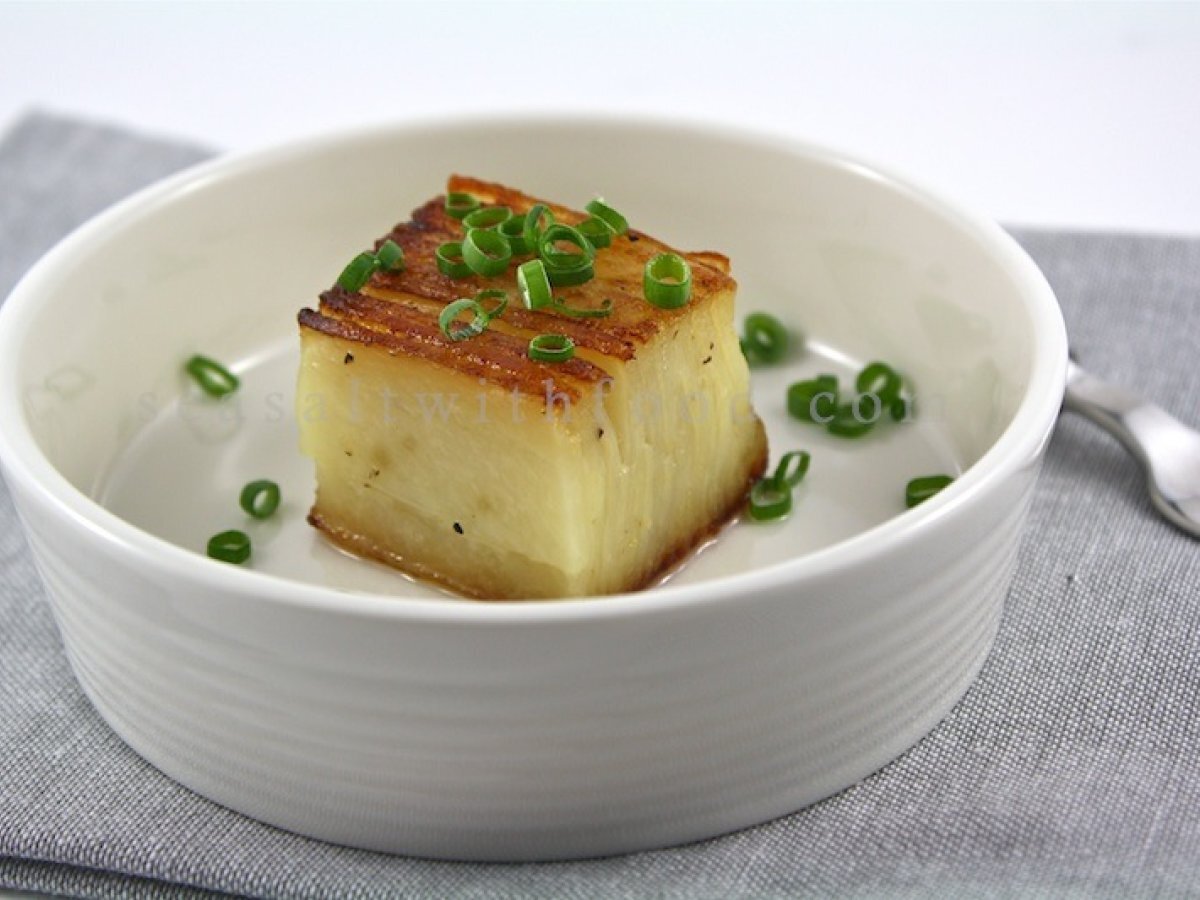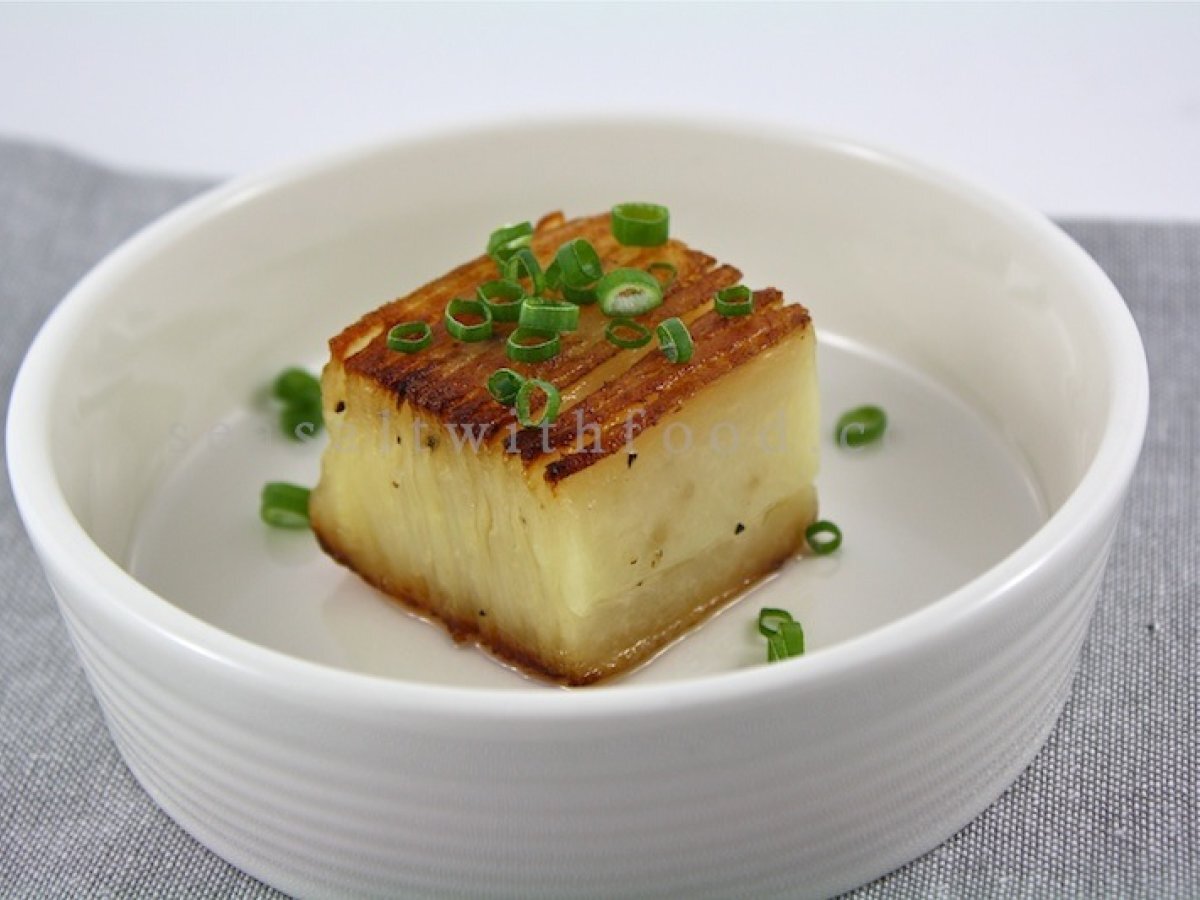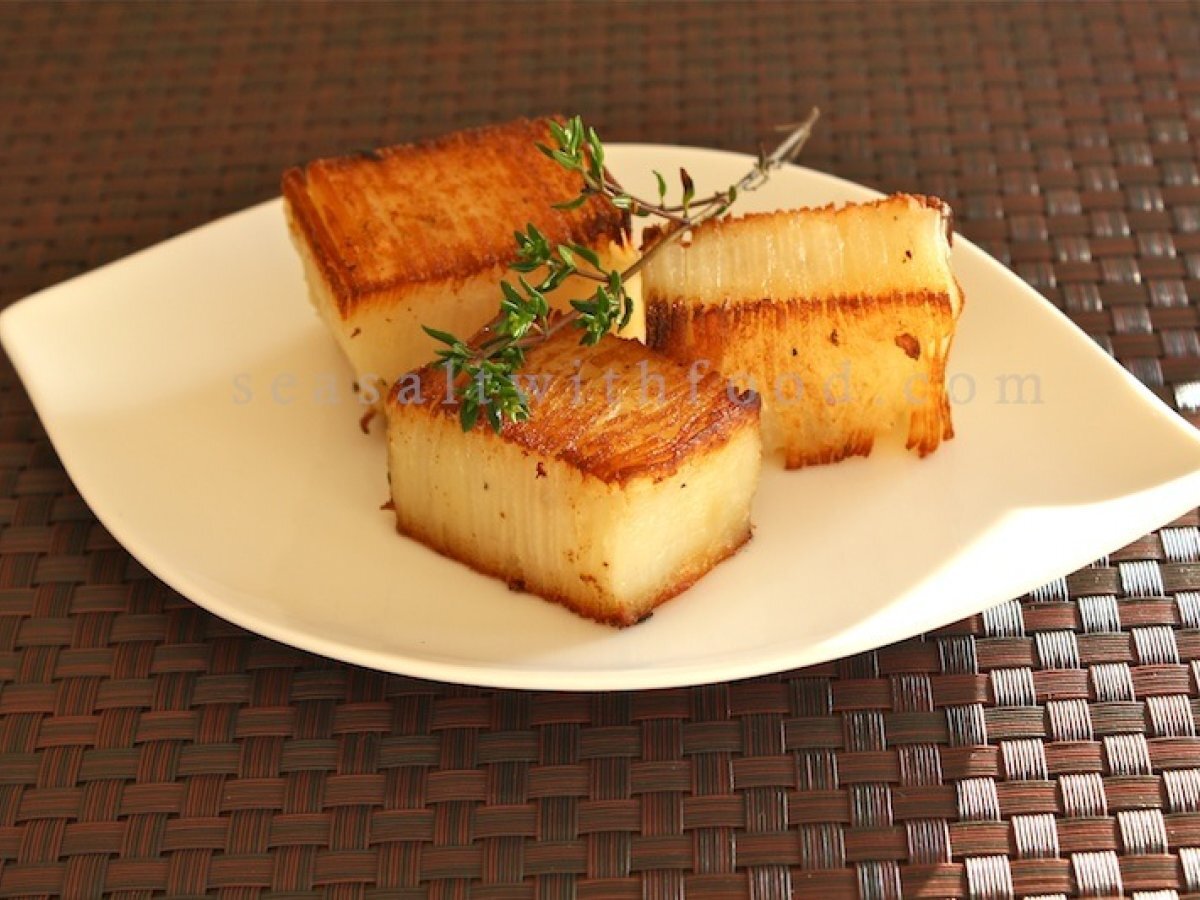 Questions:
You may like
Recipes