Salmon carpaccio
Salmon carpaccio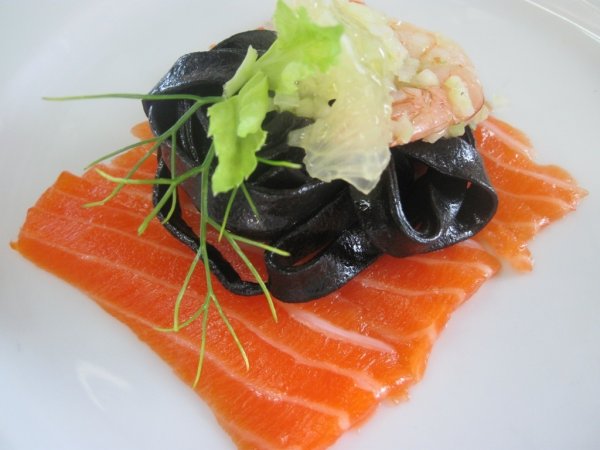 Preparation
To make salmon carpaccio, trim the salmon of any darker, oily parts and cut widthways into 4 pieces. Slice each piece of salmon from the top, nearly in two, like a butterfly. Place a sheet of plastic wrap on a heavy cutting board, brush with a touch of olive oil. Place salmon on board, brush with a little oil, cover with another sheet of plastic wrap and, using a wooden mallet or heavy pan, gently pound each piece of salmon until you have a large circular piece. Put the salmon aside on a plate. Repeat with the remainder of the salmon pieces.
To make squid ink noodles, marinate the noodles, diced fennel and celery in the lemon juice and olive oil. Season with salt and pepper. Allow to marinate for 10 ? 15 minutes. Reserve.
To serve lay the salmon on a serving plate. Dress the noodles nicely in the centre. Place some yabbies around the noodle stack.
Garnish with the fennel tips, baby celery leaves, cracked pepper and salt. Drizzle with the leftover marinade from the noodles.
Questions:
You may like
Recipes