Spiced summer pumpkin, butternut squash & red bell peppers soup
By
Sophie32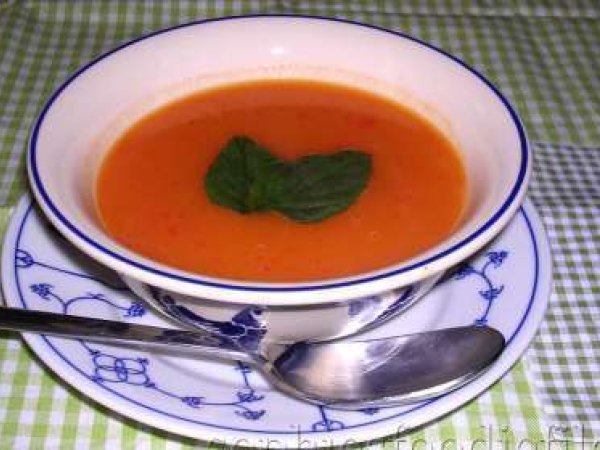 Recipe type:

Starter

Number of serving:

8 servings

Preparation:

15 min

Cook time:

20 min

Ready in:

35 min

Difficulty:

Easy
Ingredients
2 + 1/2 red bell
peppers
, washed, cleaned, pad dry on kitchen paper, cut into chunks
1 large white
onion
, peeled & finely diced
340 gr of summer
pumpkin
, peeled, seeds & threads cut out with a spoon, cut into chunks
410 gr of
butternut squash
, peeled, seeds & threads removed, cut into chunks
1/4 teaspoon of dried red chilli pepper flakes
1 liter
vegetable
stock
baking margarine
Preparation
1. Take a large cooking pot or steam cooker & heat up on high. Add some baking margarine & let it melt. When melted & sizzling hot, add the chopped onion & red bell pepperes pieces. Stir frequently. Let them fry for about 3 to 5 minutes.
2.Now , add the chopped up pumpkin & butternut squash chunks. Stir well. Then, add the vegetable stock. Stir well.
3. Finally, add the dried red chilli pepper flakes. Stir. I put the lid on my steam cooker & let it sit for about 15 minutes on high heat. Then, I turn the heat off & carefully place the steamcooker on another side of the stovetop. With the help of a wooden spoon, I put the valve open & let the steam slip away. When there is no steam left & it has stopped sizzling , you can open the steam lid. Now, taste your soup. It has to taste fab. Liquidize your soup.
But if you don't have a steam cooking pot, just boil the soup until the vegetables are cooked trough, after 15 to 25 minutes, I think. Taste & liquidize as well.
4. Laddle your soup into soup bowls & serve with some fresh leaves of basil on the top.
Enjoy!!

You taste the lovely flavours of the butternut & summer pumpkin & in the end of your mouth you feel the warmth of the dried red chilli pepper flakes,...this is not too spicy just good!
Questions:
By
Sophie32

---
---
Related video
Related recipes
Recipes