Swedish christmas dinner
Swedish Christmas Dinner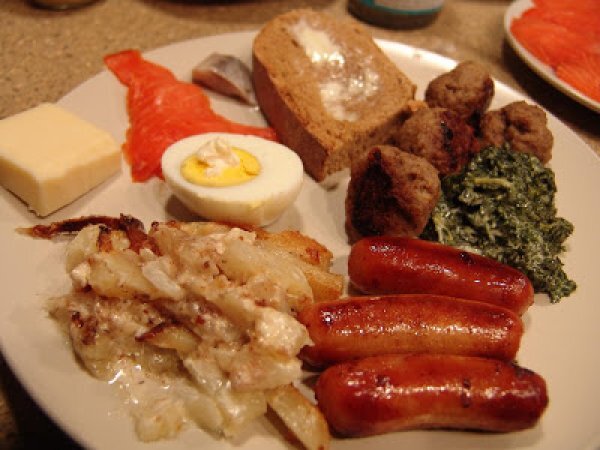 Preparation
Place 1/4 cup warm water and yeast in a bowl. Stir to combine and leave for 5 to 10 minutes, until frothy.
In the meantime, combine brown sugar, molasses, shortening/butter, salt, caraway seed and anise seed in a large bowl. Pour the hot water over the ingredients in the bowl, stir and set aside until lukewarm.
Add a cup of flour to the sugar mixture and beat until smooth. Add the yeast mixture and mix well. Add the rye flour and up to 3 1/2 cups AP flour, but not more than required to make a soft, slightly tacky dough.
You can do this by hand or in a stand mixer with the dough hook attachment. Turn the dough onto a lightly floured work surface and let rest for 10 minutes. Knead until soft and tacky, then form into a ball and place in a large, oiled bowl. Turn to coat. Cover with waxed paper and a towel and let stand in a warm place until doubled.
Punch the dough down, then pull the edges into the center and turn dough completely over in the bowl. Cover and let rise again until nearly doubled. Punch down again, then turn out onto a floured work surface.
Grease a baking sheet. Divide the dough into two portions and shape into balls. Cover and let rest 10 minutes. Place on the baking sheet, then cover and let rise until nearly doubled. Turn the oven to 375 degrees F. Bake for 25 to 30 minutes or until lightly brown. Cool on wire rack before carving.
Fill a large pot about halfway with water and add about 1 tbsp salt. Bring to a boil. Clean the kale and remove the leaves from the stems. Discard the stems. Blanche the kale in the water for about 1 minute. Drain and let cool. Once cool enough to handle, slice into smaller pieces.
Questions:
You may like
Recipes