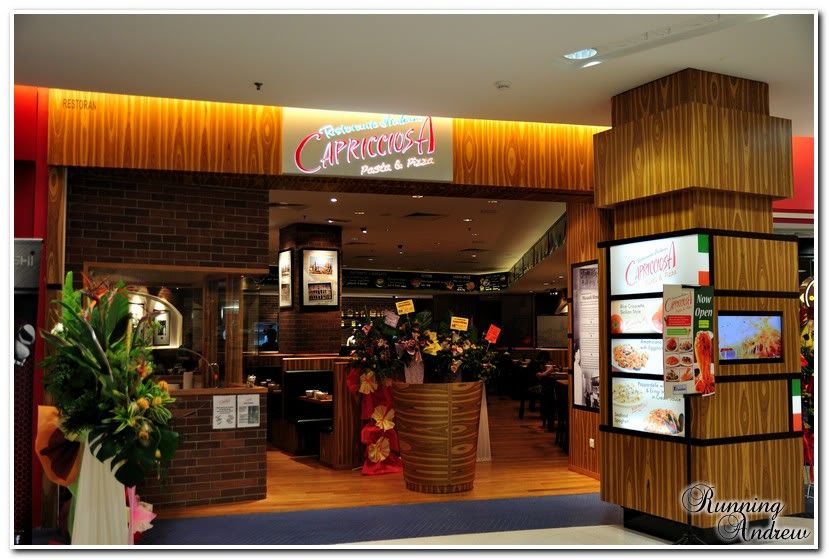 Capricciosa
From all the flowers and well wishes, it kinda gives it away that this restaurant is newly opened. Its a new restaurant indeed but the food that it serves goes a long way back; back in 1978. I can hear some of you going "Oh another Japanese Italian fusion restaurant".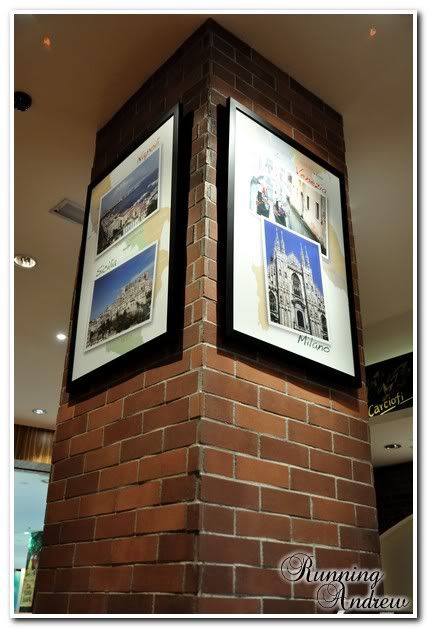 As they say, never judge a book by its cover. You gotta try this place. From what I've been told, Capricciosa's specialties are pastas and Italian dishes which are served in large portion minus the hefty price tag. Too good to be true? Lets find out.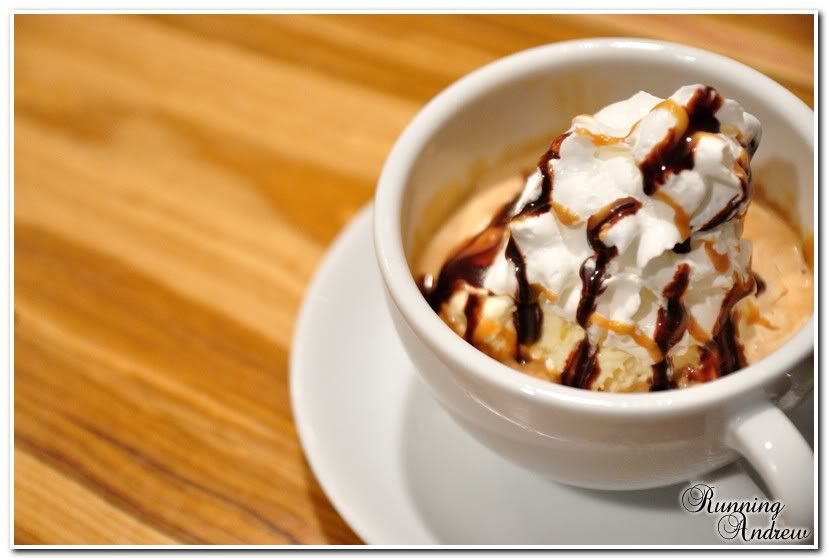 Affogato, a cup of pure sinful indulgence
What is this? It is Espresso with a scoop of vanilla ice cream, caramel sauce, chocolate sauce and whipped cream. Being a coffee lover, this caught my attention from the menu. I tried the coffee before I mixed it with everything else; it was very strong in an aromatic way and it leaves a slight bitterness at the end. As all of the coffee flavor in the espresso is concentrated, the scoop of ice cream with caramel and chocolate sauce topped with whipped cream made everything balance out; a perfect combination. All this goodness for just RM6.90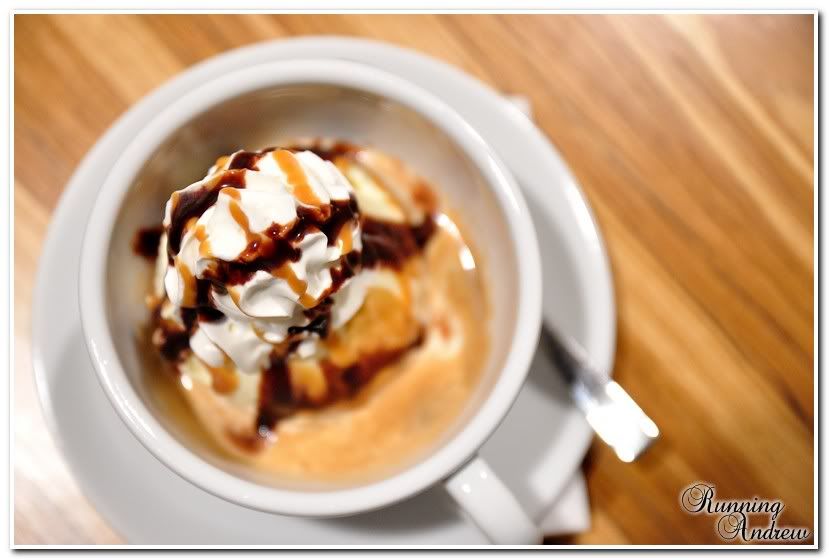 I had to take another shot at it.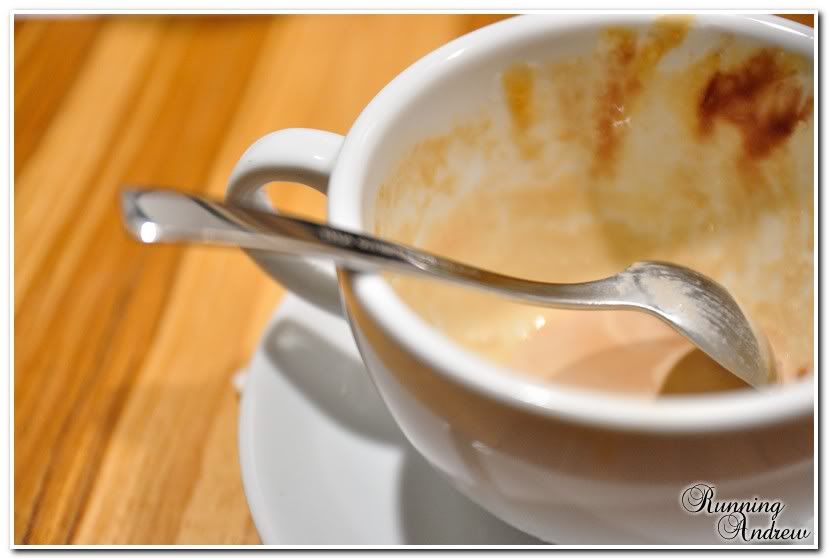 Delicious till the last drop
Italian Vegetable and Meat Soup
First up was the Italian Vegetable and Meat Soup, a savory blend of mixed vegetables, fresh cream and Capricciosa's original meat sauce. The soup's texture was not too thick and rich in flavor. Although it doesn't seem like much, but the flavors coming from the soup was simply delicious.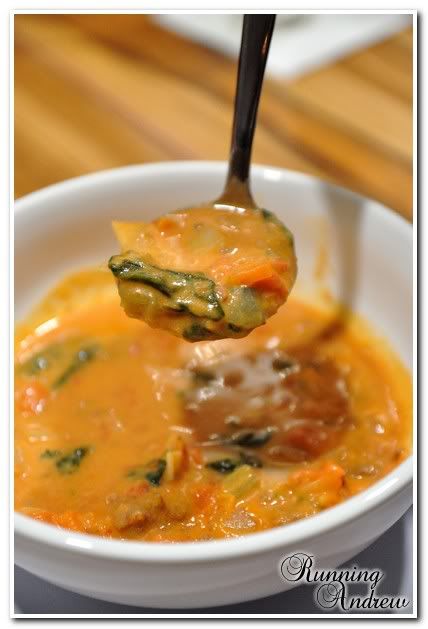 Look at the portion for just RM7.90
That is not a humongous meat ball, I swear.
This my friend is Capricciosa's Rice Croquette, Sicilian Style. It's a deep fried rice ball stuffed with mozzarella cheese served with Capricciosa's homemade meat sauce. Got your attention yet?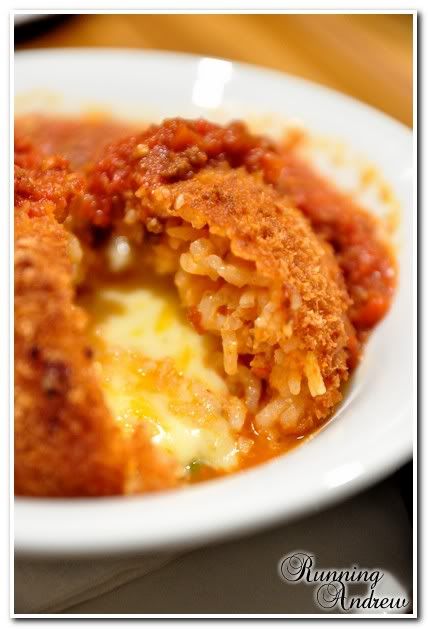 An awesome surprise awaits inside
Its a pretty big meal on its own but because this is a food review, everything served was shared of course. The combination of the Capricciosa's homemade meat sauce and mozzarella cheese was very fragrant. The rice was also done perfectly as in it wasn't mushy or anything like that; its texture was still intact.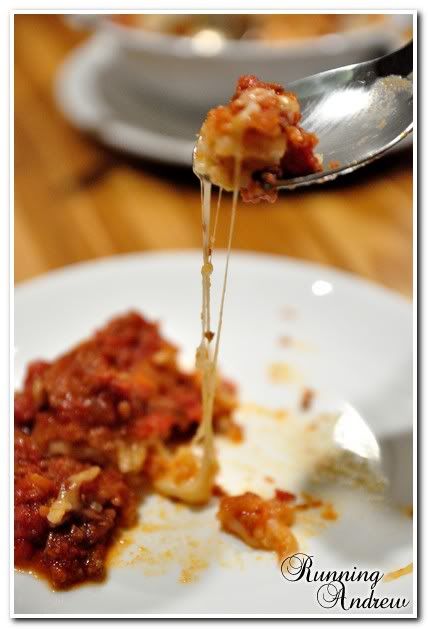 Mozzarella cheese, need I say more?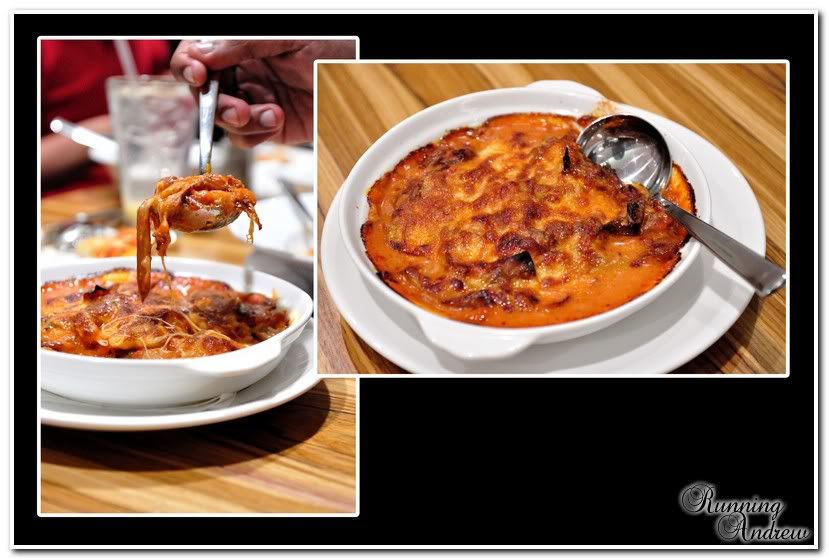 Eggplant Gratin at RM15.90
This dish is kinda unique. Fresh eggplant baked with a tomato cream sauce and topped with parmesan cheese. Best thing about it is that the cheese and cream doesn't overshadow the natural flavors of the eggplant. I could also taste the slight baked aromas from the eggplant but that's just me.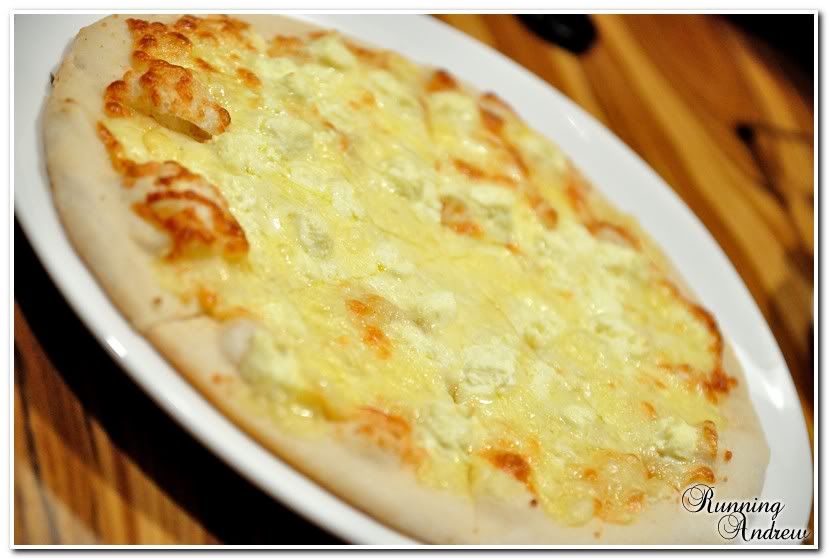 Quattro Formagi
Uno dos tres cuatro cinco cinco seís. Quattro, meaning four in Italian and yeap, you guessed it, 4 types of cheese are used; Gouda, Cream Cheese, Parmesan and Mozzarella. Although the pizza is the thin crust but one thing I find amazing is that it was still soft and fluffy! Normally, most thin crust pizza are crispy as though its made our of biscuit but this one is quite similar to the roti naan, minus the thickness.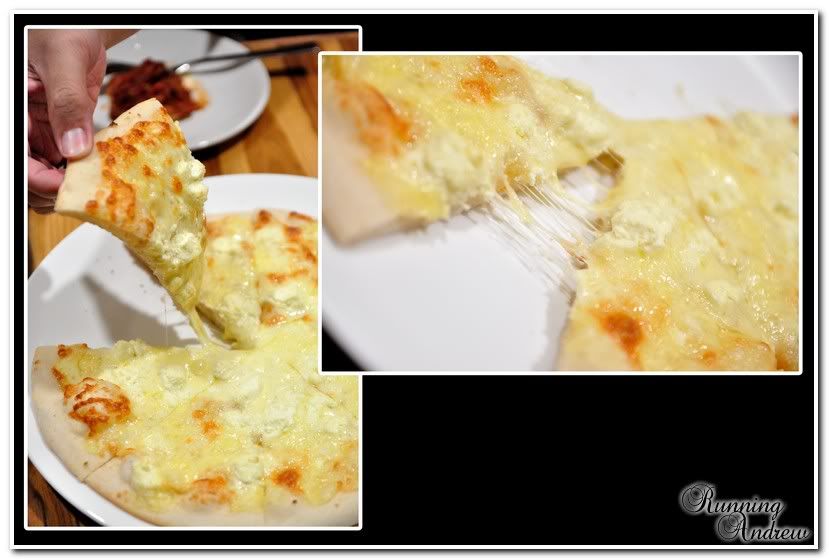 Another plus point for me was the flavors from the cheese wasn't overwhelming nor too thick which one might expect from a pizza with a combination of 4 different types of cheese. Rich in aroma and taste but feels like a light meal. Definitely a steal for RM17.90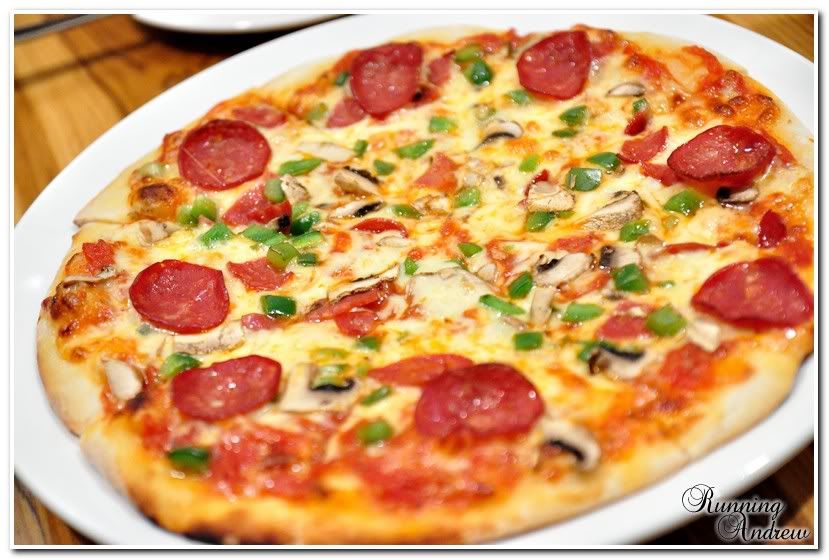 Capricciosa Pizza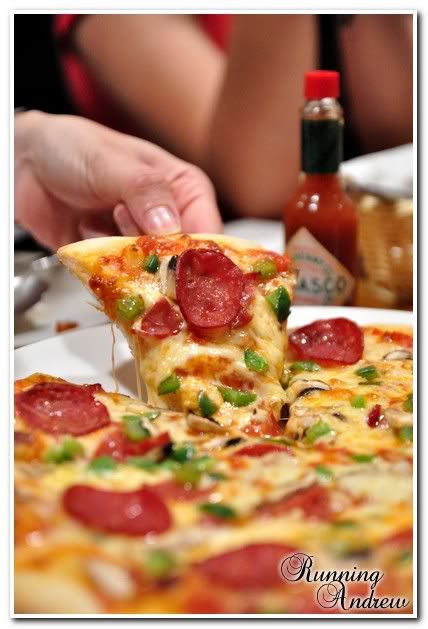 Looks really good
Capricciosa pizza, toppings of beef bacon, beef pepperoni, mushrooms and bell peppers. There one minor flaw in this one; I did not manage to try a slice* :( Jokes aside, I'm sure this pizza will definitely be a treat because so far, the food that we've tasted were delicious. With all the good stuff in this pizza, its only RM16.90.
*just a note, I'm not pointing fingers at anyone okay :P I understand things like these are bound to happen
Next up are some spaghetti dishes. Just an extra info, the spaghetti served at Capricciosa are not just "spaghetti". The spaghetti at Capricciosa are al dante, which means spaghetti is cooked how it should be cooked. Confused?
Normally spaghetti elsewhere are just boiled through and its either overcooked or undercooked, right? Al dante basically means the the spaghetti is cooked through but still has a little hard or crunchy texture in each bite. Easier said than done because you have to be consistent. At Capricciosa, I think they got this right. Here are some of the pastas that we've tried.
Capricciosa also has some hand made pastas which you will see later on.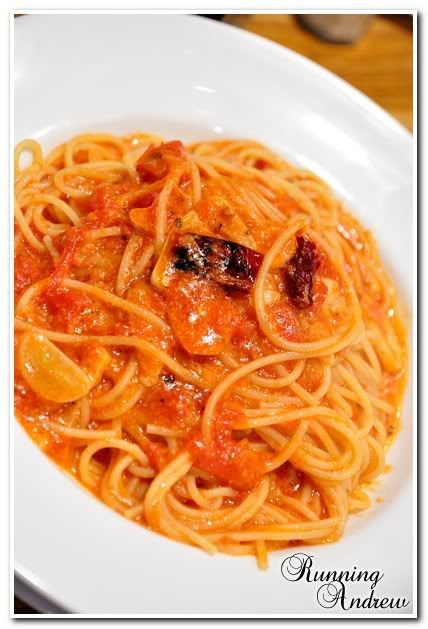 Spaghetti in Tomato Sauce with Garlic and Pepper
Simplicity at its best. This spaghetti only only sauteed garlic and pepper in Capricciosa's homemade tomato sauce and the taste very fragrant. Don't be fooled by the image because there are actually A LOT of spaghetti for one serving. A wholesome meal at only RM14.90.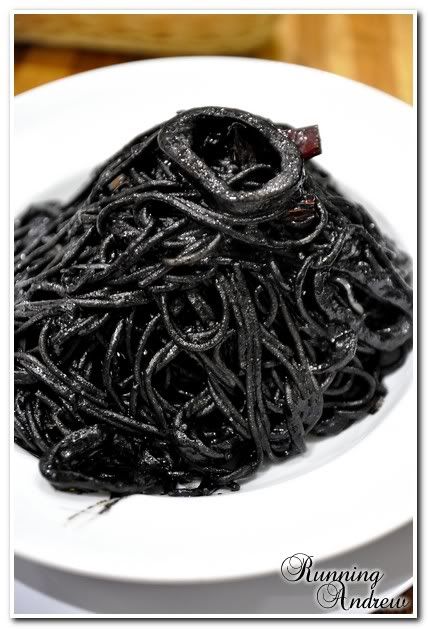 Spaghetti with Calamari and Onions in Squid Ink Sauce
To be honest, this is the first time I'm having this. As intimidating as it sounds, squid ink is actually not cheap because it has to be imported, in this case its from Japan. The spaghetti is cooked with fresh calamari, sauteed onions, some dried chili and garlic in squid ink. And to my surprise, it tasted pretty good. Not that the squid ink has any taste but the overall ingredients.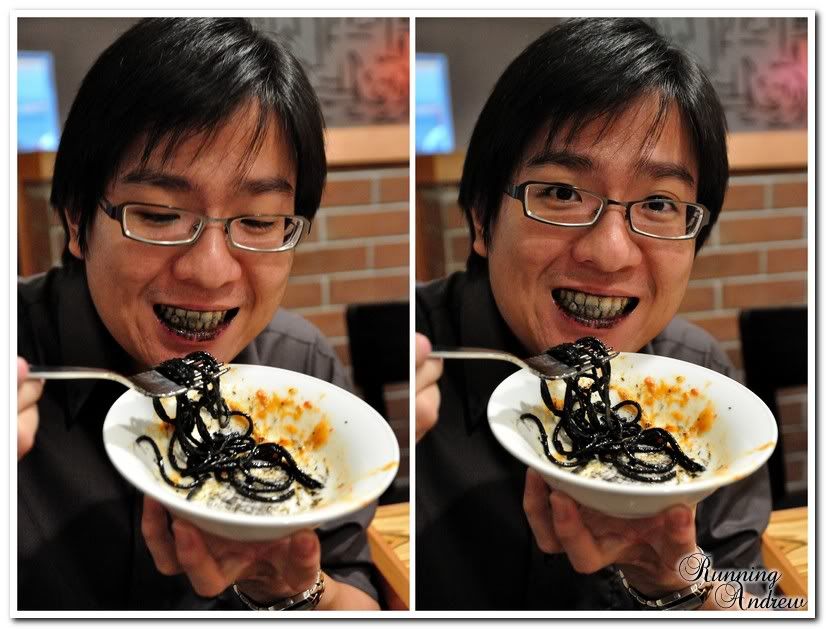 I hope this is not graphically disturbing, its just the awesome spaghetti with calamari and onions in squid ink sauce, I swear
Now for some fresh hand made pastas!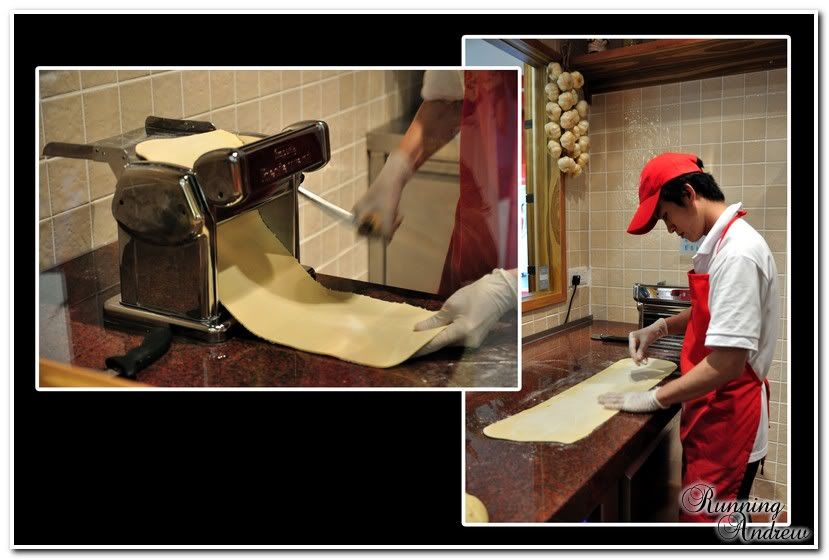 Patrons get to view some live pasta making
Amatriciana Fettuccine with Eggplant and Bacon, RM24.90
The serving portion for Amatriciana Fettuccine was huge! Not just a lot of pasta but they also give you a generous amount of the other ingredients as well.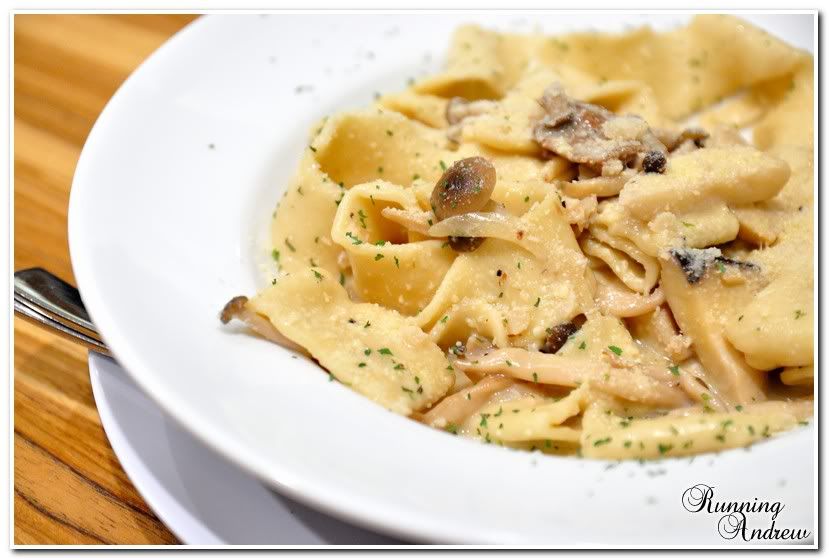 Pappardelle with Porcini and Eringi Mushrooms in Cream Sauce, RM27.90
The mushroom and cream sauces was nice with the pasta but the pappardelle was a little too thick for my liking. We did voice out our opinions on this and the peeps at Capricciosa will try to work it out. Plus points for me; open to criticisms. Nevertheless, it was still very much enjoyable
Pina Colada Soda (Italian soda)
Time to cool it down with a Pina Colada Soda (Italian soda) which is basically pineapple and coconut syrup, cream and Sprite. It doesn't contain rum as how any typical Pina Colada would be served in. A very light cooling drink for a mere RM7.90.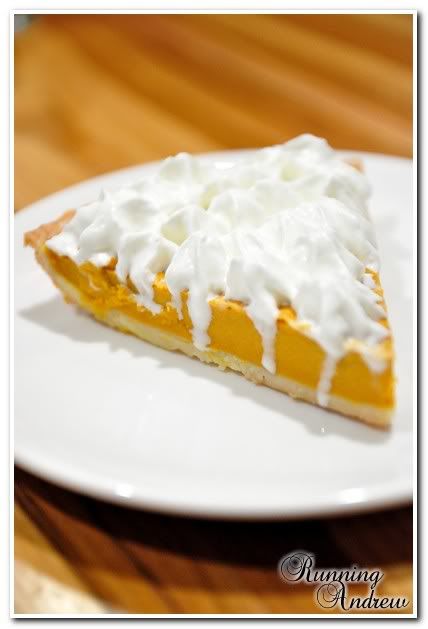 Homemade pumpkin pie
Homemade pumpkin pie topped with whipped cream. To be honest, I wasn't into this partly because its REALLY pure pumpkin. No extra flavoring like sugar and syrup or what not. For pumpkin lovers out there, this might be the thing for you at just RM8.90 and these are freshly baked daily!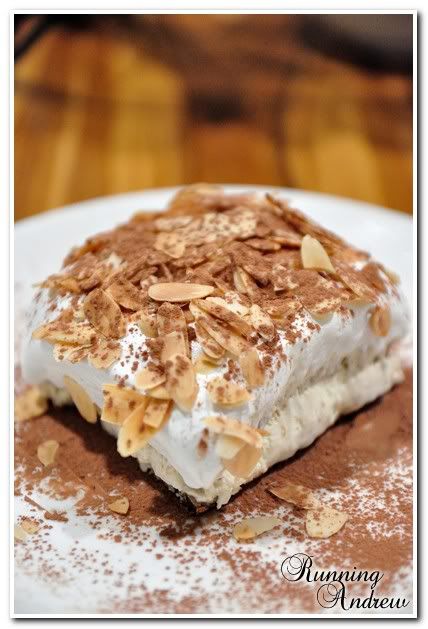 Homemade Tiramisu, RM16.90
Our last dessert was the homemade tiramisu, lady's finger soaked in espresso layered with a mascarpone cheese filling. Soft, sweet and crunchy with the almond toppings. If it wasn't for all the pasta and pizzas earlier, I would gladly finished this on my own. I kid I kid.
I would definitely recommend this place to my friends. For its taste, food portion and price, its worth revisiting it again. I miss the Affogato already.
For more information, check out their facebook page here.
Location? Its at OB3.LG2.2 Sunway Pyramid Shopping Mall (opposite of Sunway Lagoon main entrance).