2 in 1 taro/tapioca sweet soup (che khoai mon khoai mi)
2 in 1 taro/tapioca sweet soup (che khoai mon khoai mi)
It's very interesting because you can taste the flavor of the taro and the chewiness of the tapioca.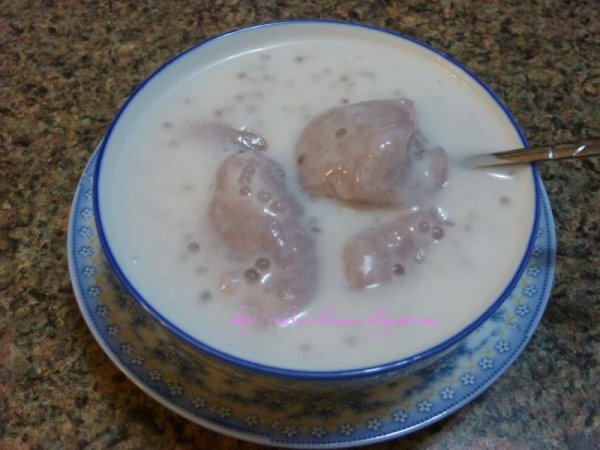 Preparation
Chop the taro into chucks and steam it until soft. Approximately 30 minutes. After taro is soft, mash it with a potato ricer or with a big spoon.
Mix the mashed taro, grated tapioca, sugar, and salt together. In the cup of coconut cream, mix 6 drop of red and 4 drop of yellow coloring together to make purple.
Mix this with the glutinous rice flour into paste and add into the taro/tapioca. Mix well.
Heat a pot of water to steam. Oil the pans and steam the cake for 30 minutes. In a pot heat some water to cook tapioca pearl. Cook it until it's somewhat translucent and strain.
In a pot boil 4 cup water and add in the coconut cream. Add in the cooked tapioca pearl and sugar. Put it on simmer.
Cut the taro/tapioca cake and drop each piece into the coconut soup. The soup is finish after adding the taro into the soup.
Questions:
You may like
Recipes