Cookie topped choux puffs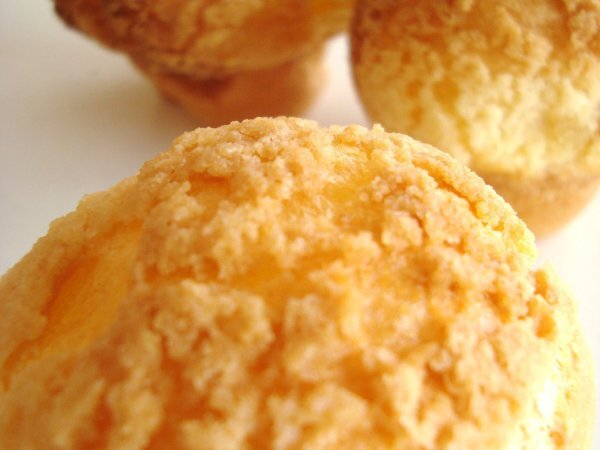 Preparation
Directions:
cookie dough...

Place the butter in a bowl and use a spoon to mash until slightly softened.
Add in the sugar and mix to combine.
Add the flour and use a spatula to mix till combined. Wrap with cling wrap and roll into a mini cylinder. Place in the freezer to chill for at least half an hour.
Choux puff...

Preheat oven to 200 C.
Place water, butter, sugar, salt in saucepan.Heat the mixture till the butter melts and boils. Remove from heat, add the flour into the saucepan. Using a heatproof spatula, stir the mixture quickly to mix.
Place the saucepan back over medium heat. Stir constantly with the spatula while letting the moisture from the mixture evaporate. The dough should become less watery and be stickier. When a thin layer of skin forms on the base of the saucepan, remove saucepan from heat.
Dump the dough into a mixing bowl, and while the dough is still warm, add in the eggs one at a time. Using the spatula, stir the mixture quickly to mix in the egg. When the mixture is smooth, add in remaining egg bit by bit (you might not need all of it) and repeat quick stirring motions until the eggs are fully mixed in and mixture appears smooth.
Transfer the dough to a piping bag (I used a zip lock bag and snipped the tip off). Line a tray with baking paper. Pipe swirls of the dough onto the tray. You should end up with approximately 10 puffs.
Remove the cookie dough from the freezer, slice into ten (or more) pieces and place on top of the piped puffs. Press down slightly and ensure that the cookie rounds are in the center of the puffs (if not you'll end up with lopsided cookie tops!).
Place in preheated oven and bake for 30 minutes. Cool before filling with desired fillings.
Vanilla custard cream...
Place milk and cream in a bowl and turn the heat on low.
In another bowl whisk the sugar and egg together until the sugar dissolves. Then add the flour and whisk until the mixture turns slighty pale in color.
When the egg mixture is ready, turn the milk mixture on high heat and pour the egg mixture in while stirring. Turn the heat on medium and stir until the mixture thickens slightly (about 3-5 minutes). Adjust the temperature lower if mixture begins to burn slightly.
Stir in vanilla essence. Serve warm or chill. Whisk the mix after chilling mixture before serving.
Questions:
You may like
Recipes