Heaven and hell cake
Heaven and hell cake
Preparation
FOR THE ANGEL FOOD CAKE:
Preheat the oven to 160°C. Line the bottom of a 10" round cake pan with ungreased parchment paper. In a medium bowl, sift together confectioners' sugar and flour; set flour mixture aside. In a large bowl, beat egg whites, cream of tartar, and salt with a hand held mixer on low speed until frothy. Increase mixer speed to medium, sprinkle in sugar and vanilla bean paste, and beat until stiff peaks form. Sprinkle half of the confectioners' sugar?flour mixture over egg whites; using a rubber spatula, fold until just combined. Repeat with remaining flour mixture. Pour batter into prepared cake pan and bake until top of cake springs back when touched, 45 50 minutes. Transfer cake to a rack and let cool upside down.
FOR THE DEVIL'S FOOD CAKE:
Preheat oven to 175°C. Grease two 10" round cake pan with butter and dust with flour to coat; shake out excess flour and set aside. In a medium bowl, whisk together cake flour, baking soda, salt, and baking powder; set flour mixture aside. In another medium bowl, whisk the coffee and cocoa powder until smooth; set coffee mixture aside. In a large bowl, beat the butter, sugar, vanilla, and eggs with a handheld mixer on medium speed until pale and fluffy, 2 minutes. Alternately add the flour mixture and the coffee mixture to the bowl in 3 stages, beating to combine after each addition. Pour the batter into the prepared cake pans and bake until a toothpick inserted into cake comes out clean, 30 35 minutes; transfer to a rack and let cool completely. If your oven cannot fit two 10'' pans at once, split the recipe in half and bake twice. If you let any batter with baking soda in it sit longer than 10 minutes, you'll get beehive cake. Freeze each layer individually, wrapped tightly in plastic to avoid freezer burn.
FOR THE PEANUT BUTTER MOUSSE:
In a very very large bowl, beat cream cheese, peanut butter, and icing sugar with a hand held mixer on medium speed until smooth and fluffy, about 3 minutes. Using a rubber spatula, fold the stabilized whipped cream into the peanut butter mixture. Weigh the mousse into 3 equal parts and set the mousse in 3 separate bowls. Chill in the refrigerator until needed.
Stabilized whipped cream:
Place the cold water in a shallow bowl and sprinkle over the gelatine. Let it stand for 5 minutes. Bain-marie it over medium low heat until completely dissolved. Whip the remaining ingredients until almost stiff and pour in the gelatine liquid and continue whisking until stiff peak. Keep covered until ready to use. Just gently fold it around with a rubber spatula upon using.
ASSEMBLING THE CAKE:
Place 1 layer of the frozen Devil's Chocolate Cake on it and spread 1 bowl of the Peanut Butter Mousse over the top with a butter knife. Top mousse with a layer of the Angel Food Cake and spread with another bowl of Peanut Butter Mousse. Repeat with the last layer of frozen Devil's Chocolate Cake, Peanut Butter Mousse and last layer of Angel Food Cake. Stir ganache until thick and smooth. Spread evenly over the top and sides of the cake with a butter knife. Chill it for 2 hours. Warm up the remaining ganache to pouring consistency and pour over the cake, covering all top and sides evenly, using a spatula to grab some of that glaze back on the cake. Refrigerate the cake for 2 hours again before slicing.
Photos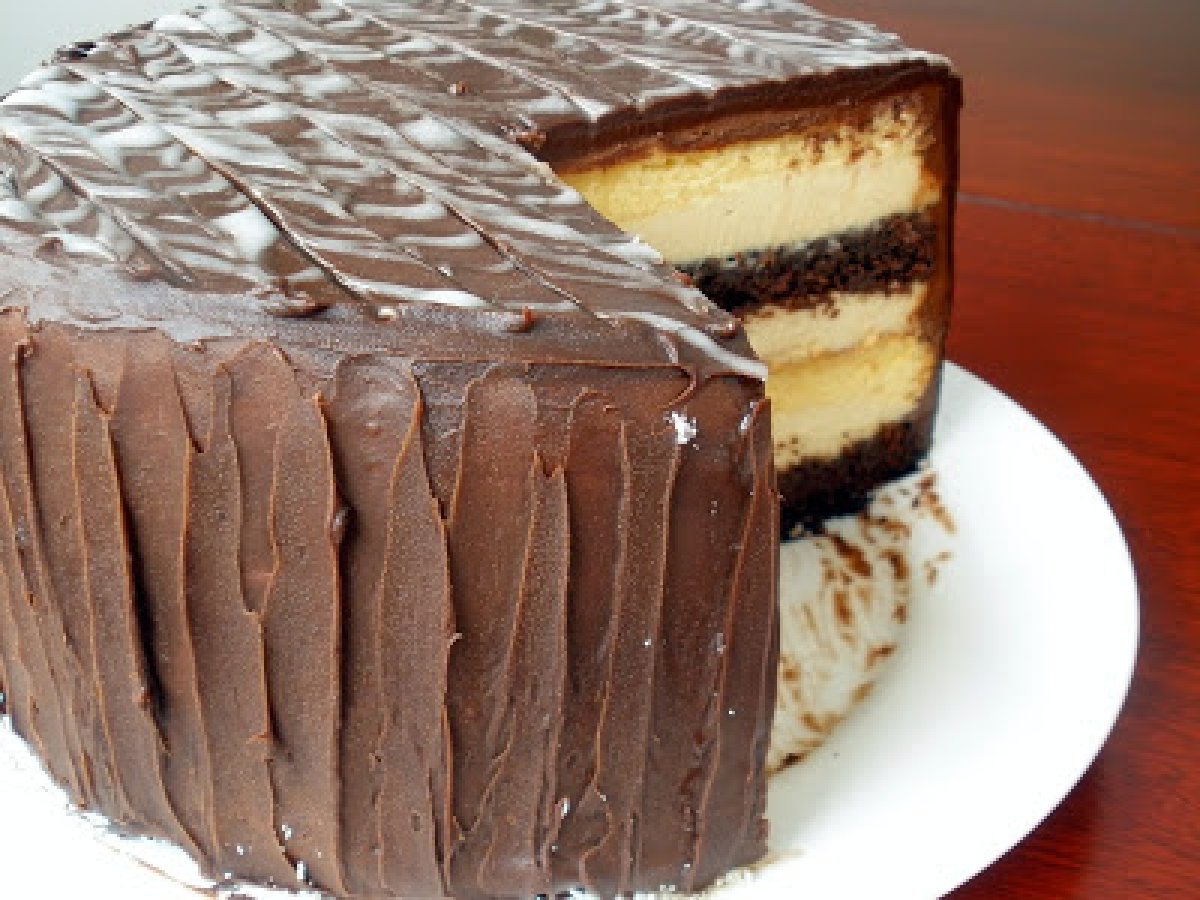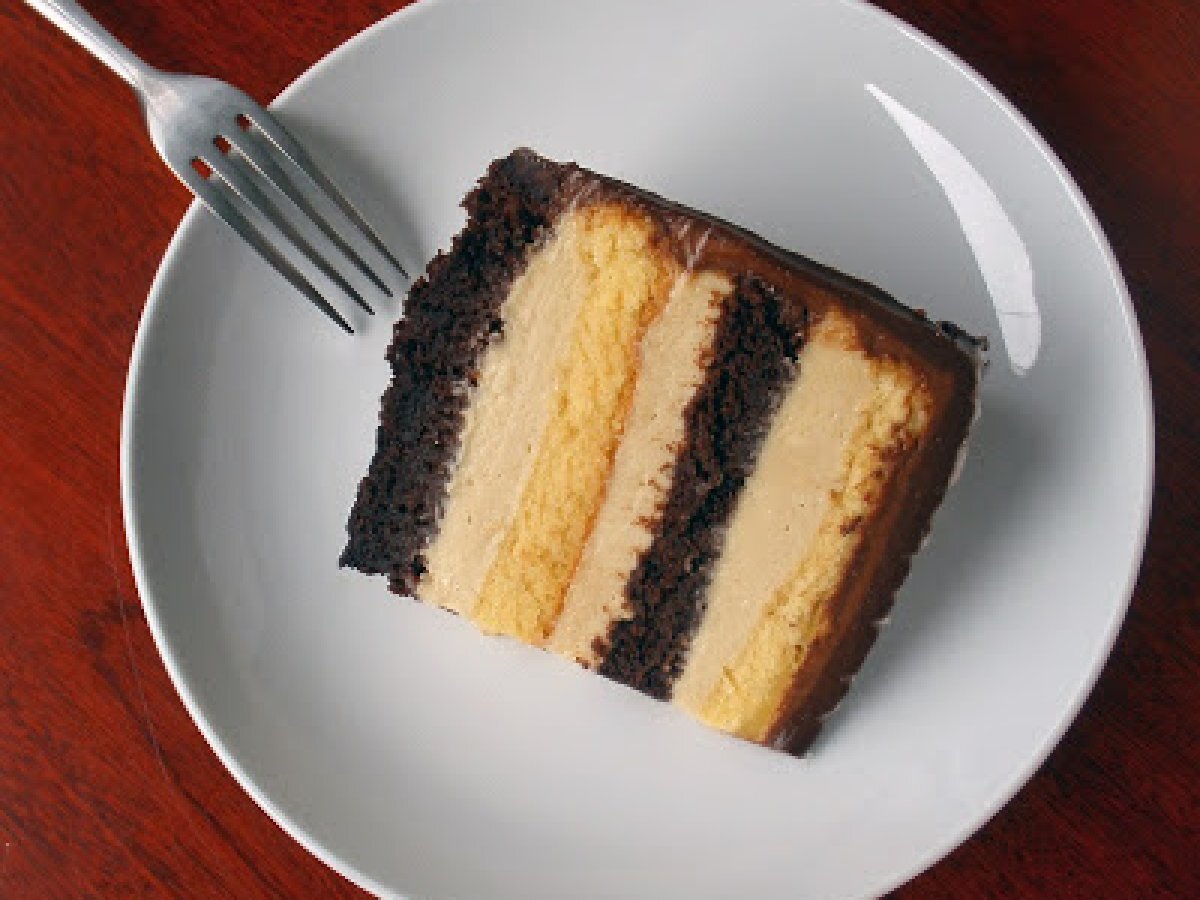 Questions:
You may like
Recipes
Related articles