Home made delicious rasgullas
Home made delicious rasgullas
By
ramyashanky

Rasgulla is an cheese based dish popular in India. The dish originated to Odisha. Rasgullas are made from an Indian cottage cheese & semolina dough ball. They are made small shaped dumplings & cooked in light sugar syrup. Source:wiki

Rasgullas were my all time favorite. Appa used to buy haldiram rasgulla a week before diwali & we used to sneak up onto it. So when i read about the preparation of home version online i thought of giving it a try.

Here is the recipe i tried & ended up with yummy big Ras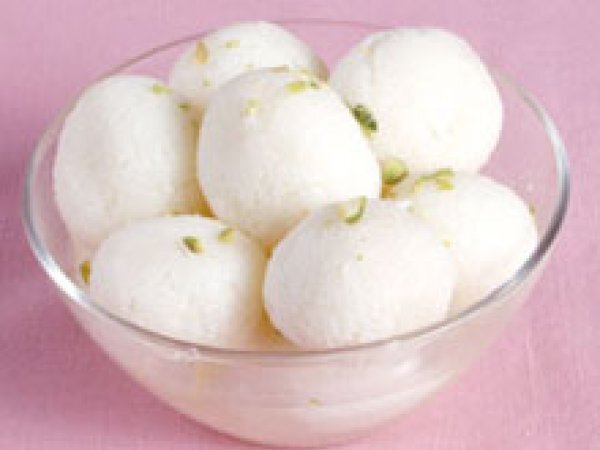 Recipe type:

Dessert

Number of serving:

8 servings

Preparation:

60 min

Cook time:

20 min

Ready in:

1 h, 20 m

Difficulty:

Easy
Ingredients
Preparation
Step 1
Rasgullas are made out of soft panners/cottage cheese.
Heat a litre of milk by adding few drops of lime juice. When the milk starts curdling switch off & after it gets cooled filter out the whey using a cheese cloth. Wash the panner under water to remove the smell of lemon.
Step 2
Hang the cloth around 40 minutes by draining out all water out of the panner.
Step 3
After the allotted time take out the panner which would be in an crumbled up shape.
Step 4
Knead the panner well using your hand & make it into a dough.
Step 5
You have to keep in mind that the panner would become large once its put to boil so keeping that in mind roll into small equal sized balls. I got around 25 smooth balls.
Heat the water by adding 2 cups of sugar, cardamom/elaichi powder. Once the sugar dissolves & the water becomes a syrup add the small panner bolls one by one slowly.
Step 6
Cover it for some time & cook till the panner becomes big Rasgullas. Leave it to cool refrigerate & serve delicious home made Rasgullas.
Step 7
Note

1.You can use pressure cooker also to make Rasgullas. Just boil panners for a whistle after water starts boiling.
2. Sugar syrup should be of thick consistency otherwise Rasgullas might taste watery.
3. Refrigerate for nearly 6 hours so that the sugar syrup gets completely into the rasgullas.
Related recipes
Questions:
By
ramyashanky

---
---
Related video
Recipes
Related articles
12 delicious ways to celebrate Chinese New Year