Leche flan with coffee caramel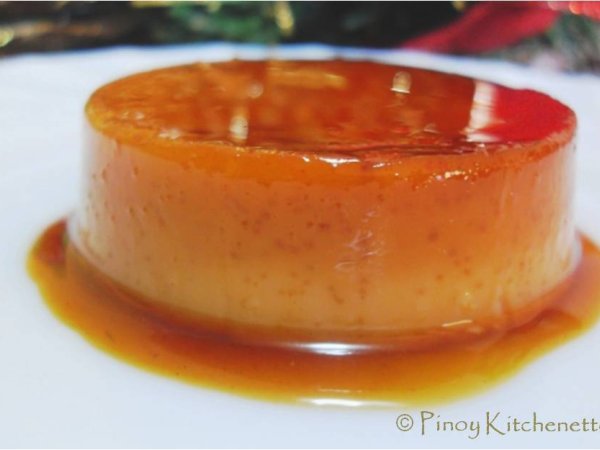 Preparation
In a saucepan, let the sugar caramelize over low heat.( Or you may use the llanera itself instead of saucepan, if you'll be using about 1 or 2 llaneras only). Continuously stir, until the sugar melts. Then add coffee. Then spread the caramel evenly on the bottom flat layer of the molds. The more caramel you put on it, the sweeter the leche flan will be. So pour in just enough to cover the bottom of the molds.
Set aside the molds. Let cool.
In a bowl, put the yolks, beat slowly. Then add evaporated milk, condensed milk, vanilla extract and calamansi (or lemon rind if you're using one). Mix slowly. Avoid creating bubbles. Just mix it nice and slow
Strain the mixture with a fine strainer for a smoother flan.
Then pour the flan mixture into the molds (llaneras). Then cover each mold with aluminum foil.
Steam for about 30 minutes.OR, If using oven:
Pre-heat oven to 190 C
Place the molds in a larger baking . Then fill this large pan with hot water, with almost halfway level to the sides of the llaneras.
Bake for about 1 hour or until the flan is firm.
You can tell if it's cooked through inserting toothpick, if it comes out clean then it's cooked.Let the flan cool. Then refrigerate. It sure is worth the wait.To serve, gently turn the mold upside down. Now you see, the sweet golden caramel on top and some dripping on the sides.
Questions:
You may like
Recipes