Mouna, an easter brioche - video recipe!
Mouna, an easter brioche - video recipe!
or
A fun brioche, directly coming from Spain with nice flavors.
Ingredients
- 2 cups flour
---
- 0.5 ounce fresh yeast
---
---
---
---
---
---
- 2 Tbsp orange blossom water
---
- 1 tsp anise
---
- 1 egg to brush
---
- 3 hard-boiled eggs
---
- 3 tsp vinegar
---
- food colouring
---
- sugar pearls
Preparation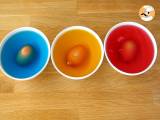 Step 1
Prepare the colored eggs :
Fill 3 bowls with water, and put 1 tsp of vinegar in each one. Add some food colouring and put the hard boiled eggs in each bowl. Leave them to soak until the end of the recipe.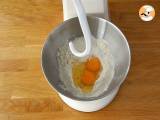 Step 2
In a bowl, put the flour, the sugar, the salt and the yeast (be careful, the yeast can't touch the sugar or the salt, or it will "die"). Add the eggs and mix quickly.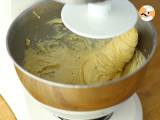 Step 3
Then add the olive oil, the orange blossom water, the anise, the lemon peel, and knead at medium speed for around 10 minutes.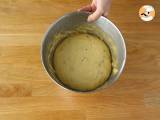 Step 4
Put a cloth on the bowl, and place it in a hot spot. Leave 2 hours, or until the dough is twice its original size.
Then, degas it, by applying some pressure on it to take the air out.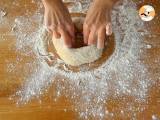 Step 5
On a table covered with flour, form a nice ball. Using your fingers, dig a hole in the middle, then make circles to strech the dough around your fingers and form a nice wreath.
Put it on a baking tray, and leave at least 1 hour in a hot spot to make it swell.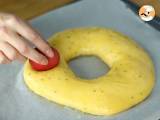 Step 6
Gently apply some beaten egg on the wreath. Take the colored eggs and dry them. Put them on the brioche, and decorate with some sugar pearls.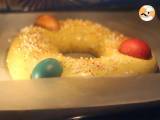 Step 7
Bake 25 minutes at 350°F (180°C)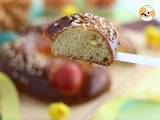 Step 8
There you are, your Easter brioche is ready!
---
---
Related recipes
Recipes
Related articles