Nigella's old fashioned chocolate cake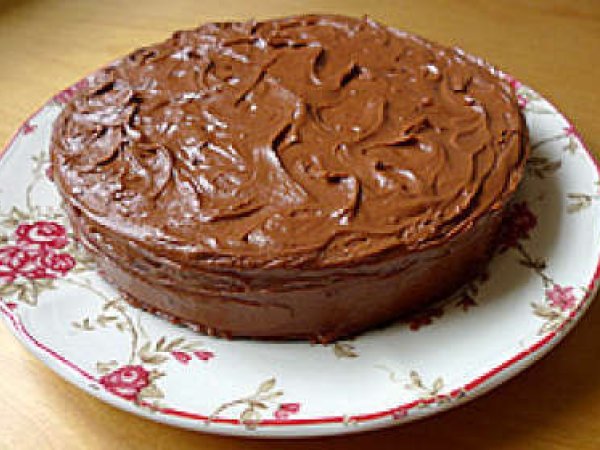 Preparation
For Cake
1. Take everything out of the fridge so that all the ingredients can come to room temperature.

2. Preheat the oven to gas mark 4/180°C and line and butter two 20cm sandwich tins with removable bases.

3. Now all you have to do is put all the cake ingredients – flour, sugar, baking powder and bicarb, cocoa, butter, eggs, vanilla and sour cream – into a food processor and process until you have a smooth, thick batter. If you want to go the long way around, just mix the flour, sugar and leavening agents in a large bowl and beat in the soft butter until you have a combined and creamy mixture.

4. Now whisk together the cocoa, sour cream, vanilla and eggs and beat this into your bowl of mixture.

5. Divide this batter, using a rubber spatula to help you scrape and spread, into the prepared tins and bake until a cake tester, or a thin skewer, comes out clean, which should be about 35 minutes, but it is wise to start checking at 25.

6. Also, it might make sense to switch the two cakes around in the oven halfway through cooking time.

7. Remove the cakes, in their tins, to a wire rack and let cool for 10 minutes before turning out of their tins. Don't worry about any cracks as they will easily be covered by the icing later.

Additional Info from Nigella:
- I tend to keep my kitchen stocked with very good dark chocolate buttons (70 per cent cocoa solids) as this entirely dispenses with any need to chop chocolate before melting it (see Sources & Stockists to find these online). Do not dream of using normal confectionary ones (except just to eat, of course).

- I love to dot the top of this with sugar pansies – and you must admit, they do look enchanting – but there really is no need to make a shopping expedition out of it. Anything, or indeed nothing, will do.

- If you want to use Nigella's icing recipe, you can find it at her website.

For Creamy Chocolate Frosting
1. In a medium bowl, sift together the confectioners' sugar and cocoa, and set aside.

2. In a large bowl, cream butter until smooth, then gradually beat in sugar mixture alternately with evaporated milk. Blend in vanilla. Beat until light and fluffy. If necessary, adjust consistency with more milk or sugar.
Questions:
You may like
Recipes
Related articles