Quince cake
Quince cake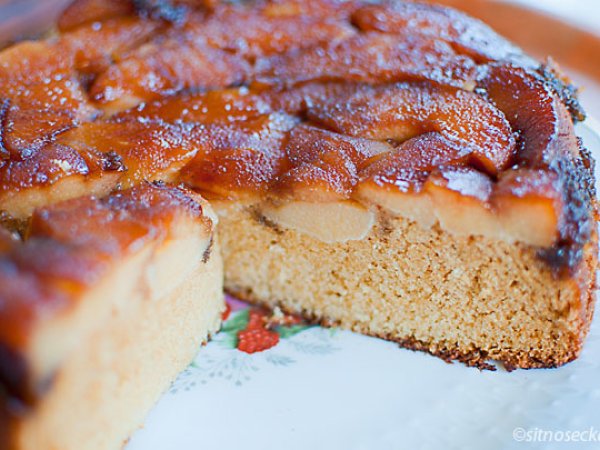 Preparation
First, poach the quince in 1l water with the sugar, spices and lemon until the quinces are tender. Now prepare the topping. Butter the sides of a 9-inch cake pan generously. Melt the butter in a small skillet.
Whisk in the brown sugar. pour into the bottom of the prepared cake pan and set aside to cool for a few minutes. Now, slice the cooked quince into 1/4-inch slices and arrange decoratively in concentric circles on top of the brown sugar topping.
Preheat the oven to 180°C. Mix the flour, 1/2 cup sugar, baking soda and baking powder together in a bowl. Beat in the egg yolks, oil, lemon juice and 1 tablespoon of the cooking liquid.
Beat the egg whites separately with the remaining 1/3 cup sugar until they hold soft peaks. Fold a small amount of the whipped egg whites into the flour mixture to soften it, then fold in the remaining whites.
Pour into the cake pan over the quince. Bake in the preheated oven for about 45 minutes, or until the center of the cake has risen and feels noticeably firm to the touch. Cool the cake for 30 minutes or so, to give the topping a chance to solidify a bit.
Run a small knife around the edge of the cake so that it doesn't stick to the pan and carefully flip it over onto a serving plate.
Questions:
You may like
Recipes
Related articles