The gfcf apple week recipe experience: apple pie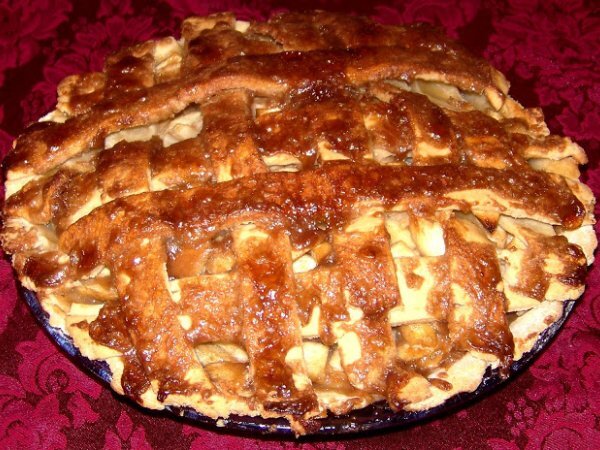 Preparation
Preheat oven to 425° and place a large baking sheet lined with foil on the bottom rack. Place the apples in a large mixing bowl.
Melt the butter in a saucepan. Add the flour and stir to form a paste. Add the water, sugar, brown sugar, and cinnamon, and bring the mixture to a boil. Reduce the temperature and let it simmer.
Roll out the bottom crust and place it in the pan. Roll out the top crust and, using a pizza cutter or knife, cut into strips to be used for the lattice top . Set aside.
Add all but 1/3 cup of the sugar-butter mixture to the apples, and combine until the apples are evenly coated. Keep the remaining 1/3 cup of liquid on the stove over low heat.
Place the apples evenly in the pie pan. Arrange the strips of dough on top of the apples in a lattice formation, pinching at the edges to seal. Using a pastry brush, brush the remaining sugar-butter mixture on to the lattice crust and around the edges.
Place the pie in the oven on the middle rack and back at 425° for 15 minutes. Reduce the oven temperature to 350°, rotate the pie 180°.
And bake for an additional 35 to 45 minutes or until the crust is browned and the apples are cooked through. If the crust is browning too fast, cover with aluminum foil.
Questions:
Related recipes
Recipes