Boilar boney-boney con goolash (boiled pork bones dumped with veggies)
Boilar boney-boney con goolash (boiled pork bones dumped with veggies)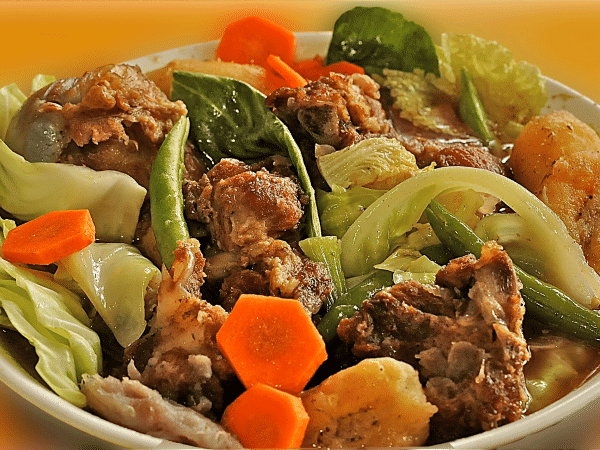 BOILAR BONEY-BONEY CON GOOLASH
(Filipino: Pinakuluang Buto-Buto Tinambakan ng Gulay)
(English: Boiled Bones Dumped with Veggies)

Start of nationwide classes and everybody's pockets
are now almost empty.
Tuition fees, miscellaneous needs, uniforms, gadgets & paraphernalia
and allowances drained our once deep money pouch.
Time to create "austere" but mega healthy dish that our "schoolers"
will enjoy for lunch or lay-in center during family talks over dinner.

The cooking method is different in whi
Preparation
With just enough tap water to cover meat, boil "buto-buto"
to desired tenderness. Remove from broth.Set aside drained meat & broth for later use. Heat EVOO and fry to almost well done state your bananas & sweet potatoes. Remove from oil & set aside.
In the same frying pan, sauté onion till translucent. Add in boiled meat, fried banana & sweet potatoes. Tumble and mix well for 2 minutes.
Add in "patis", soy sauce, ground black pepper and salt.
Tumble and mix well for 3 minutes to ensure full flavor absorption by meat. Add in more EVOO if need be.
While on this stage, bring broth to a boil.
Once boiling, add in all in raw mats from the sautéing pan into broth. Continue boiling for another 2 minutes. Before end of 2 minutes, scoop in 2 pieces each banana & sweet potato.
Crush to paste consistency and pour back unto boiling broth.
(this system gives extra flavor & a bit of viscosity to soup).
Pour in other veggies. Turn off stove. Veggies will be half-cooked but nutritively crunchy.
Season with additional "patis" and/or black pepper if so desired.
Serve to loved ones a dish that is so healthy and highly economical.
Questions:
You may like
Recipes