Chicken adobo with tomato sauce
Chicken Adobo with Tomato Sauce
Chicken adobo is one of philippines' cuisine. Normally chicken adobo are cooked without tomato paste . But here I added tomato sauce for further enhancement.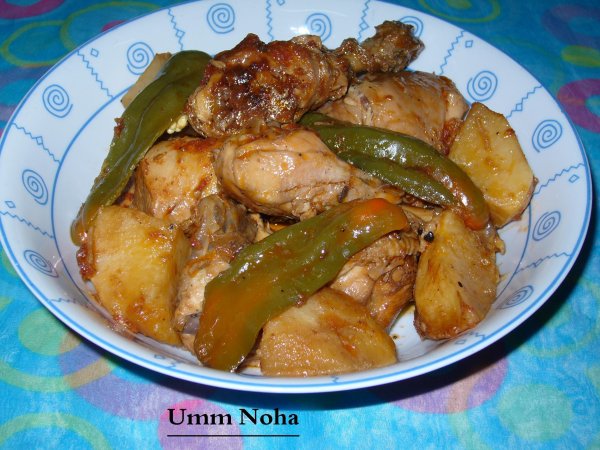 Preparation
The first step is to marinate the chicken with the vinegar, soy sauce and ground pepper . Marinate, mix with your hands and leave in the fridge for about an hour.

In a large heavy pan , heat the oil and fry garlic until it is slightly browned. Add in onions and cook until golden . Add in tomato sauce and sauté until it boils. Continue cooking on low heat until the sauce becomes oily and has caramelized a bit. Add the marinated chicken pieces and lightly stir. Pour the leftover marinade and simmer on medium heat until partially cooked through and some liquid has evaporated.

Add in bay leaves, whole peppercorn and some salt to taste. Pour in some water and simmer until the chicken is soft. Add in potatoes and continue simmering until everything is fully cooked through; when the potato is already soft add the bell pepper and leave for another 5 minutes.
Questions:
You may like
Recipes