Chicken and mushroom spaghetti
Chicken and mushroom spaghetti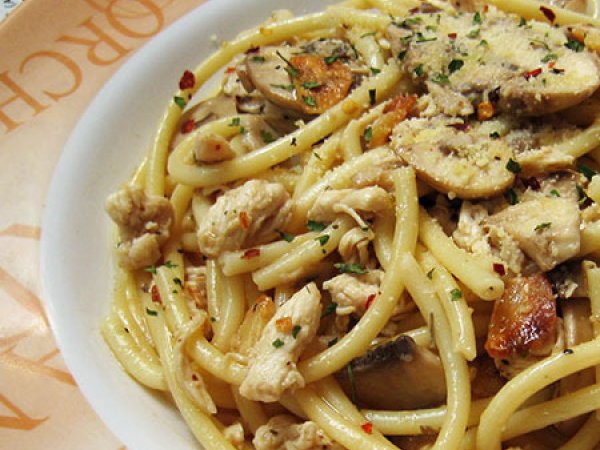 A light and delicious chicken and mushroom spaghetti
Ingredients
2 servings of tubular
spaghetti
/ pasta of your choice (about 140 - 160 g)
---
100 g white button mushrooms, sliced thinly
---
100 g
chicken
fillet, cubed / sliced
---
10
cloves
garlic, peeled and sliced thinly
---
---
---
Dried chilli flakes
---
Shredded parsley
---
Grated parmesan cheese
---
Salt
---
Coarse black pepper
Preparation
Bring a pot of water with some salt to a boil. Cook the tubular spaghetti according to the timing indicated on the packet, until al dente. Drain and set aside the pasta, reserving a small cup of the pasta water.
Heat saucepan with 1 tbsp of olive oil. Add mushrooms and chicken, a pinch of salt and black pepper. Stir fry or sauté until cooked. Set aside cooked mushrooms and chicken on a plate.
Heat 3 tbsp olive oil in the same pan; add garlic and chilli flakes. Sauté the garlic until it starts to turn light golden brown.
Turn off the stove. The garlic will continue cooking in the hot oil on its own for a few more seconds in the hot oil, until they turn a lovely golden brown. Melt the butter in the garlic and oil mixture.
Add cooked pasta, cooked mushrooms and chicken mixture, some salt and black pepper. Toss to coat all the ingredients evenly, adding some reserved pasta water to help the ingredients bind together.
Serve with Parmesan cheese and shredded parsley.
Questions:
Related recipes
Recipes