Crispy chicken tacos and satay sauce
Crispy chicken tacos and satay sauce
Today, we mix Mexican and Thai cuisine in this recipe for crispy tacos topped with chicken and satay sauce. The base is very simple: wheat pancakes baked in the oven. For the filling, we used chicken thighs that were simmered in coconut milk and peanut butter. Enough to put a little sunshine on your plate thanks to this combination of flavors.
Preparation
Prepare the chicken satay:
Peel the red onions and cut them into julienne (thin strips). Set aside. Squeeze the juice of 1 lime. Peel and finely chop the fresh ginger. Set aside. Trim excess fat from chicken thighs. Season as desired.
In a deep saucepan, add: the onion, lime juice, coconut milk, soy sauce, peanut butter and ginger. Mix.
Heat the half glass of water and dissolve the concentrated chicken stock cube in it and add it to the pan. Add the chicken that you will have cut.
Cook over medium heat for 25 to 30 minutes. Remove from heat.

*If you prefer a thicker sauce, remove the chicken from the pan and allow the sauce to reduce to the desired consistency. Cook over medium heat without the pan lid. Stir occasionally.
Take the chicken thighs and remove the flesh. Crumble it and mix it back into the sauce.
For the crispy tacos:
Place each of the tortillas, folded in half and hanging, ends down, on the oven rack. Put another plate in the lower part of the oven; so that, if one of the pancakes falls over during cooking, it would fall on the plate.
Bake for 10 - 15 minutes at 190°C (time may vary depending on each oven). The tortillas should be crispy and lightly browned.

Remove each tortilla from the grill, being careful not to burn yourself. Do it gently so they don't break.
Assemble the tacos:
Fill each crispy taco with the shredded chicken and sauce. Decorate with a few fresh coriander leaves and some crushed peanuts. And it's ready!
You tried this recipe ?
Mention @petitchef_en and tag #petitchef
Cookware
Observations:
How can I thicken my sauce sooner without having to wait for it to reduce?
You can use cornstarch. Dissolve 1 tablespoon of cornstarch in some water. The water should be at room temperature. Neither hot nor cold. Bring the sauce to a boil and add the dissolved cornstarch to the sauce. At this point, reduce the heat to minimum and cook, stirring constantly, until you obtain the desired texture. Remove the pan from the heat otherwise the sauce will continue to thicken.

What other filling can I use to fill my taco?
You can fill your taco with your favorite ingredients. For example: guacamole, chicken and cheese. Another topping we love: cream cheese with salmon and avocado :-D

Which accompaniment should I choose for my chicken satay?
We used it to fill a taco but it doesn't have to be that way. This chicken in sauce is ideal to accompany rice or crispy fries.
Photos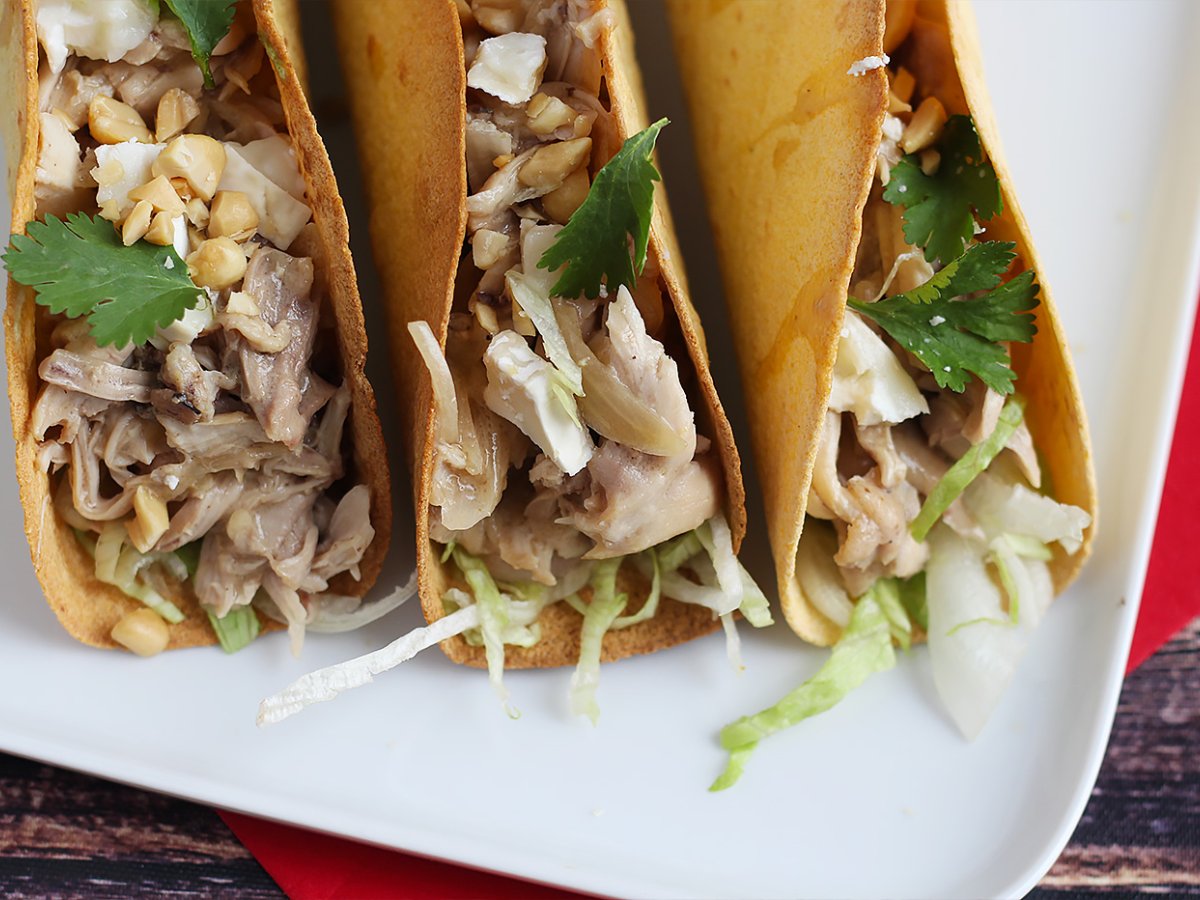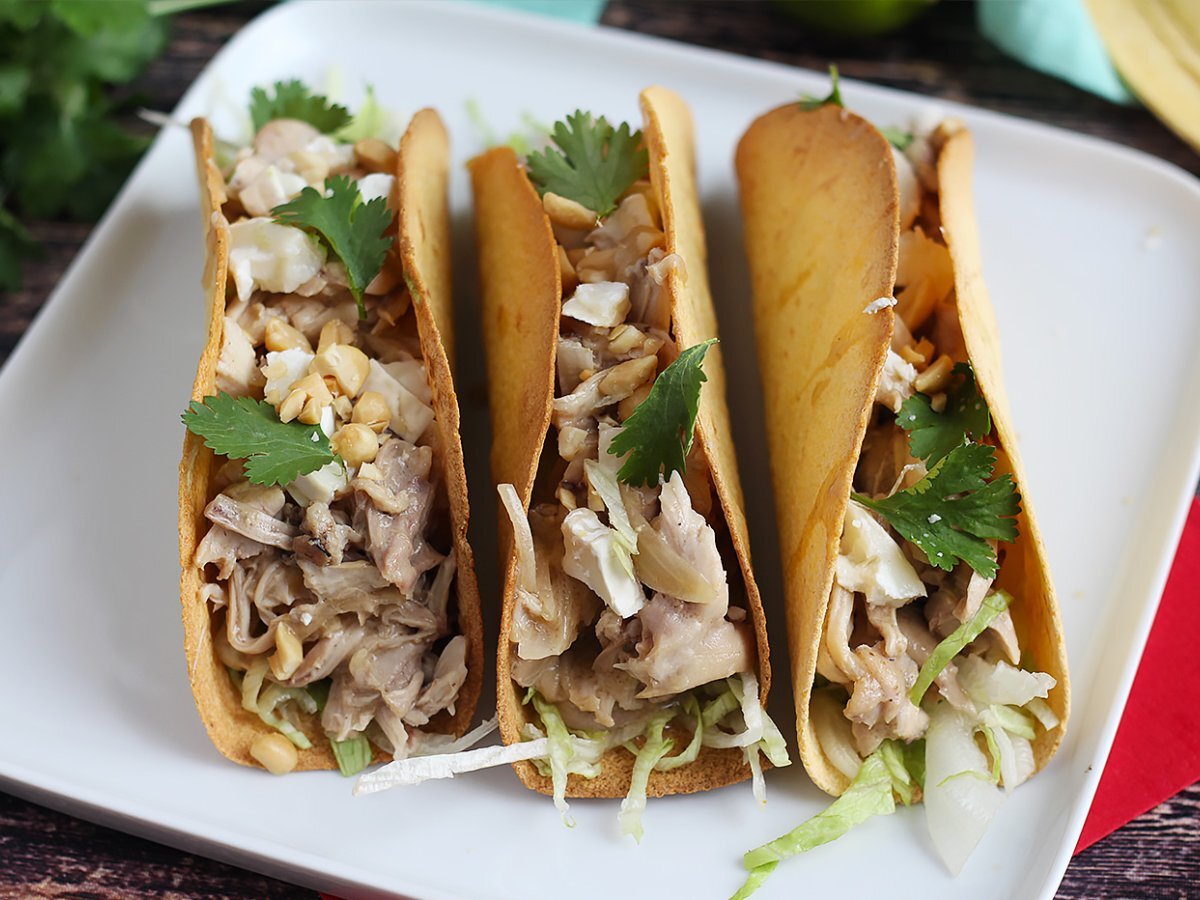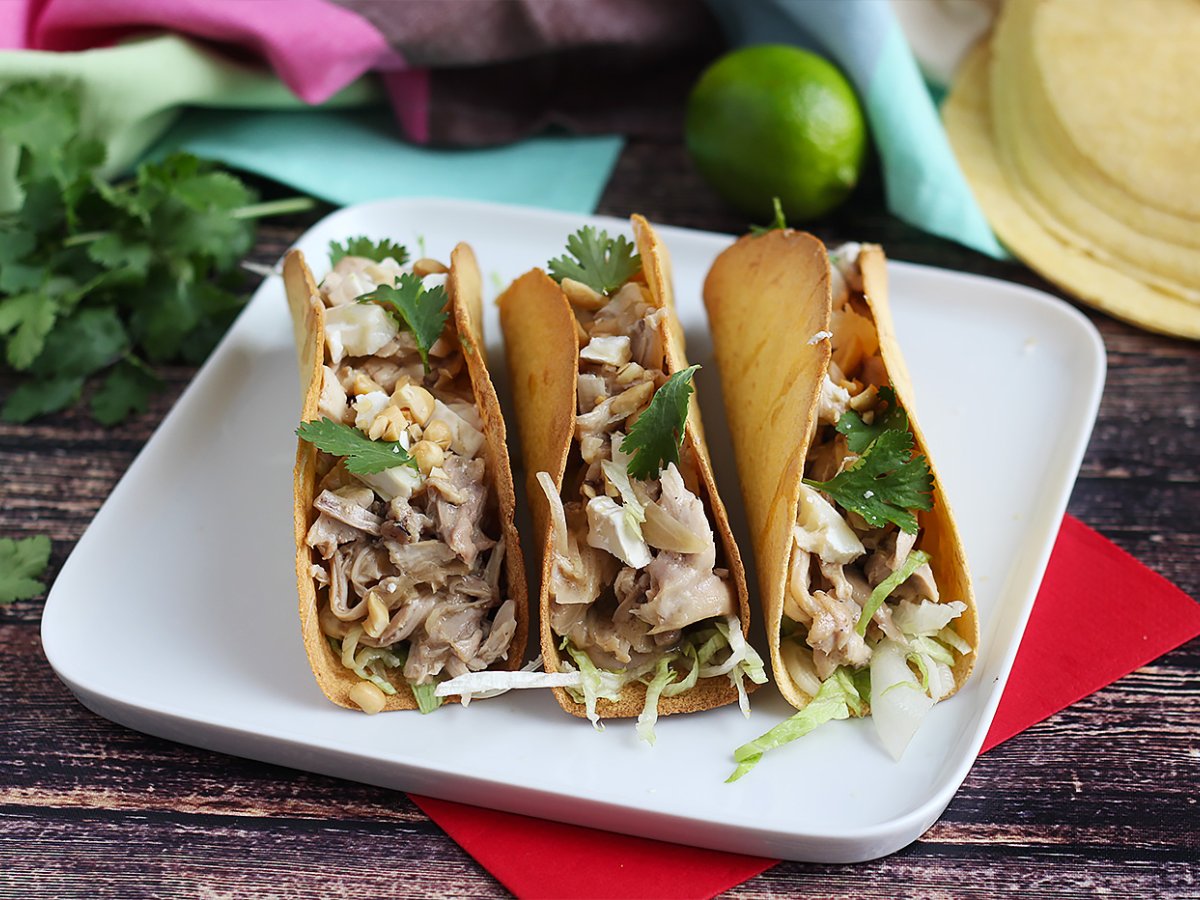 Questions:
You may like
Recipes

<! -- HB slmads - AD akcelo-->