Japanese milk bread
Japanese milk bread
Japanese Milk Bread is amazing soft, fluffy and flavorful bread and One of the best bread recipe that I have tried. I love this bread with butter and I have also used it in my sandwich and its worth it. I am going to make this bread again. We finished it off in no time.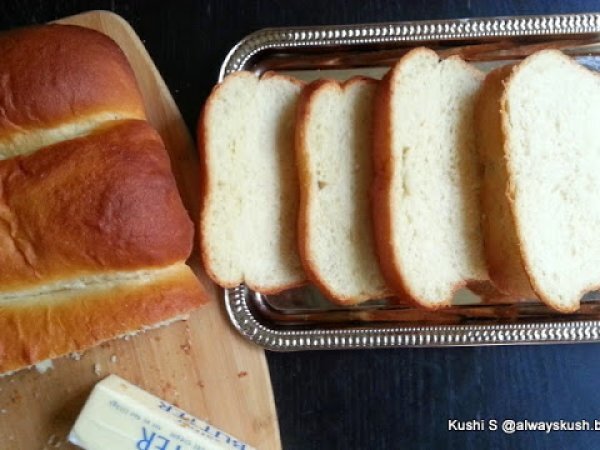 Preparation
In a pan add flour, water, and milk and boil the mixture on medium heat for 5 minutes, while continuously stirring. Remove from heat when a thick paste is formed. Allow this paste to cool to room temperature.

In a large mixing bowl add lukewarm milk and sprinkle package of active dry yeast to it. Cover, and let the yeast activate. This will take approximately 10 minutes.
To this add melted room temperature butter, sugar, salt, lightly whisked egg, and the paste from step 1 and whisk well.

Add flour to the above liquid mixture and knead using hand for a good 10 minutes or till you get a nice elastic dough that does not stick to the bowl. Cover and let the dough rise for 1 hour.
After 1 hour the dough should have doubled in size. Scrape the dough on to a well floured surface and lightly knead for a minute. Now divide the dough into 4 equal parts.

Roll each of the four parts into a small rectangular shape (need not be perfect). Fold each of the longer edges of the rectangle to meet at the center. Now roll from the the shortest edge to form a log. Repeat this for the remaining three portions of the dough.
Take a well greased loaf pan and place each of the dough logs with their seam side down. Cover the loaf pan with an aluminium foil and place it in a warm spot for about an hour. After 1 hour the dough would have doubled in size as shown below.
Preheat the oven to 350 F. Brush the tops of the risen bread with heavy cream and then bake for about 45 - 60 minutes or until the internal temperature is about 200 F. Allow it to cool down.

Japanese Milk Bread is now ready. serve with butter and enjoy.
Questions:
You may like
Recipes
Related articles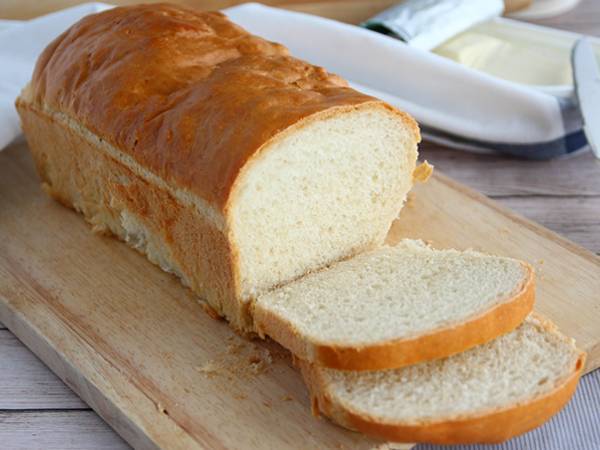 Make your bread at home!