Masala peanuts/ masala kappalandi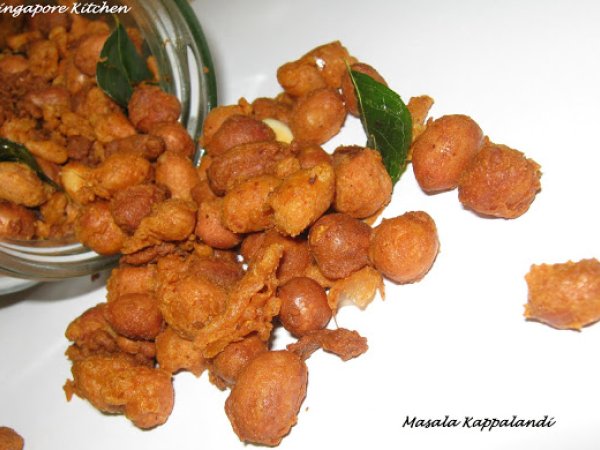 Preparation
Mix in all the ingredients except peanuts,oil and curry leaves.
The batter must be thinner compared to the bajji batter. Check for the salt and the spices and adjust to your taste.
Heat oil in a kadai. When its hot mix in the peanuts in the batter. Using a fork or your hands scoop up some peanuts from the batter and sprinkle into the hot oil. Depending on the oil level add in more peanuts. Using a fork,mix in the peanuts very fast so that they are separated.
Otherwise they will all stick together. Once they are separated, you can add in some Curry leaves. Always keep the flame in medium position. Using a slotted spoon, stir in the peanuts. This is to prevent from burning. After around 4-5 minutes of stirring, the peanuts will be cooked.
Using the slotted spoon, take the peanuts and transfer it to bowl layered with tissue paper. This helps to adsorb the oil very much.
Do the same procedure for the next batch. Do not forget to change the tissue paper as the first tissue will be soaked in oil.
The first batch of fried peanuts must be removed to another bowl before putting in the second batch. Do the same procedure for next 4-5 batches. After its fully cooled down, transfer it to an airtight container or jar. Nibble when ever you enter your kitchen.
Questions:
You may like
Recipes