Braised peanuts
Braised peanuts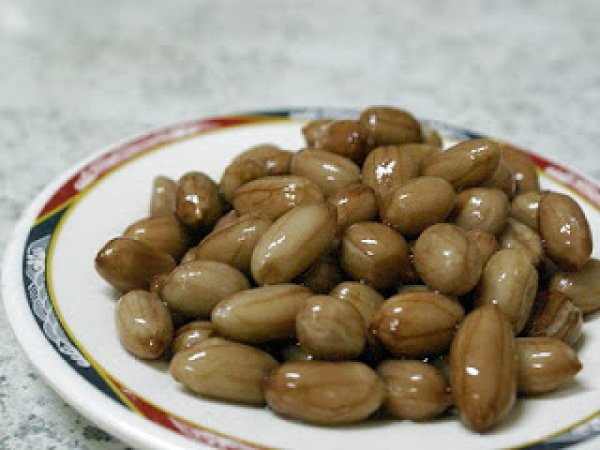 Those peanuts do not taste salty but are quite aromatic and has a tinge of sweetness from the rock sugar.
Ingredients
200 g peanuts (use the bigger type), preferably soaked overnight
---
3 g tong kwai
---
2 g liquorice stick (kam chou)
---
1 g mandarin peel
---
1 star anise
---
---
3 g chuen koong
---
1 teaspoon chopped
garlic
Seasoning
---
---
1 tablespoon Premium
oyster
sauce
---
---
1 teaspoon thick soy sauce
---
1/8 teaspoon pepper
---
60 g cane rock sugar
Preparation
Rinse soaked peanuts and drain well in a colander.
Combine tong kwai, liquorice stick, chuen koong, mandarin peel, star anise, cinnamon stick, garlic and water in a saucepan.
Bring to boil for 10 minutes.
Add in peanuts and seasoning. Continue to boil for 30 minutes.
Reduce the heat and simmer for 2 hours or until peanuts are soft and tasty.
Serve peanuts as an appetizer before a meal or even as a snack.
Observations:
Note: The peanuts will cook faster and softer if pressure-cooked for 30 minutes.
Questions:
Related recipes
Recipes