Memphis-style spareribs (visit site!)
Memphis-style spareribs (visit site!)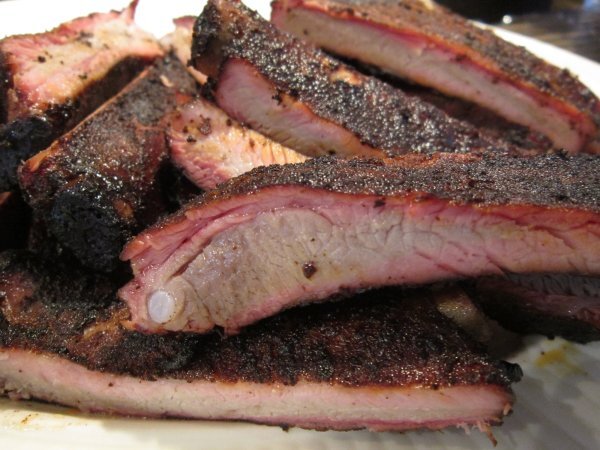 Great recipe for Memphis-Style Spareribs! These ribs are dry-smoked (no sauce) and produce the perfect smoke ring (pink ring), the perfect bite (not overdone), and a fantastic bark (crust)! So fire up your grill and give it a try!
Ingredients
For the Dry Rub
---
---
1 1/2 tablespoons chili powder
---
---
1 teaspoon onion powder
---
1 teaspoon garlic powder
---
1 teaspoon ground
celery
seeds
---
---
---
1 teaspoon dried oregano
---
1 teaspoon dried thyme
---
1/2 teaspoon ground cayenne pepper
---
1 teaspoon salt
---
For the Ribs
---
4 lbs (2 kg) trimmed pork spareribs, in slabs
---
3 or 4 handfuls hickory chips, soaked in water
---
Your favorite barbecue sauce, to serve on the side (optional)
Preparation
Mix all the dry rub ingredients in a bowl, and pat it all over the spareribs, rubbing it in well. Place the ribs in a dish, cover, and refrigerate for at least 1 hour or for up to 4 hours. Remove from the refrigerator at least 30 minutes before barbecuing.
Prepare a charcoal grill for barbecuing over medium-low heat (300-350 degrees).
Place an aluminum drip pan half full of water in the center of the fire bed. Sprinkle some of the wood chips on the coals. Place the ribs on the grill rack over the drip pan.
Cover and grill and smoke the ribs, turning them every 30 minutes or so and adding more wood chips, more coals, and more water to the drip pan as needed.
Continue to cover, grill, and smoke the ribs until they are fork-tender, 2 1/2-3 hours. (I stacked and wrapped the ribs in foil for the last 1/2 hour.)
To serve, cut the slabs into separate ribs and pile on top of a platter and serve proudly!
Questions:
Related recipes
Recipes