Mozzarella stuffed elk burger
Mozzarella stuffed elk burger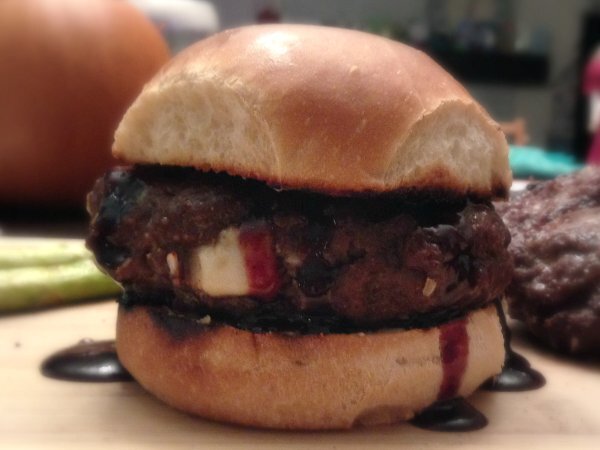 A burger seasoning recipe that is versatile enough to use with any dark meat burger...plus the mozzarella! Who can pass that up!?
Ingredients
1 lbs ground elk burger
---
---
---
---
3/4 tsp pepper
---
---
---
1/4 italian seasoning
---
3 Tbsp italian bread crumbs or panko
---
3 Tbsp Blackberry Ketchup- this is optional. If you didn't make this from my previous post, leave it out. (http://blog.curedconfection.com/2013/12/30/blackberry-ketchup/)
---
1 container small mozzarella balls, or fresh sliced mozz. You will have some left over, so plan on eating it up
Preparation
The key is to "infuse" the meat with the spices, and not just add them to the top. In a bowl, combine all ingredients like you would meatloaf and divide into five equal portions. Break each portion in half and make them flat..place some mozzarella in each one, leaving enough room to be able to pinch the seams of the two pieces together around the cheese.
Lightly coat each burger with olive oil so they don't stick to the grill. BBQ on each side for about three minutes. Elk meat is best cooked to be a bit pink in the middle, but it is up to you and your preference. Remove from the grill and let rest for a few seconds.
Normally I would put the usual suspects on a burger, lettuce, tomato, etc., but with this one, I find the simpler, the better. So add a bit of mayo to the bottom bun for some moisture, place the burger on top and drizzle it with a tablespoon or so of the blackberry ketchup.
Questions:
Related recipes
Recipes