Muddipalya ( pepper, lemon & greens in lentils gravy)
Muddipalya ( Pepper, Lemon & Greens In Lentils Gravy)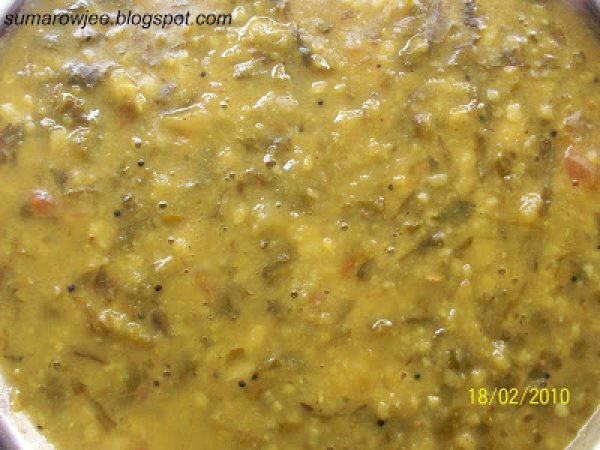 Preparation
Pressure cook the dal with a pinch of turmeric till soft. Heat the oil in a heavy bottomed pan or kadhai.
Add the mustard seeds, allow to splutter. Add the jeera saute for a few seconds till light brown.
Add in the hing, turmeric powder and then the methi leaves. Saute for 2-3 minutes and add the chopped tomato. Cook till methi and tomato are soft.
Now add the cooked dal and let it come to a boil. Add the chilli paste, jeera powder, pepper powder and salt to taste.
The dal must be quite thick. If it is very thick add about half a cup of water and adjust the consistency.
In case it is thin, mix in a teaspoon of wheat flour in 2-3 teaspoons of water and add this paste to the dal when it is boiling.
Boil the dal for about 5 to 10 minutes on a low flame. Take off the fire. Add the lemon juice just before serving.
Observations:
Please Note: You could skip the green chillies altogether and step up on the pepper powder. In case you wish to reduce the quantity of pepper, add more chillies.
Questions:
You may like
Recipes