Nasi minyak (plain buttered rice)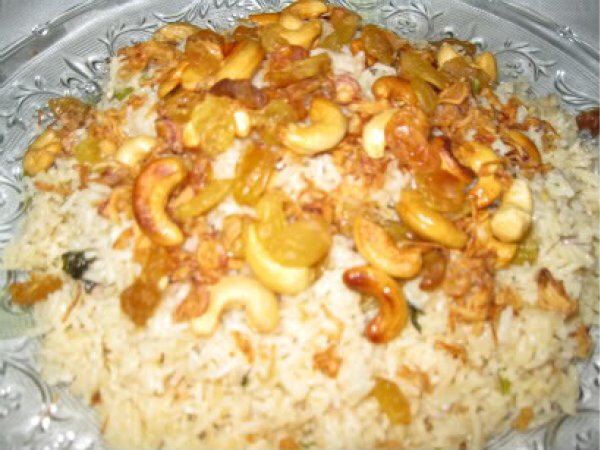 Recipe type:

Main Dish

Number of serving:

4 servings

Preparation:

15 min

Cook time:

35 min

Ready in:

50 min

Difficulty:

Very Easy
Ingredients
- 4 cups Basmati
rice
(soak in water for 1 hour with 1 tablespoon vinegar)
- 4 cups plain water (add 1 teaspoon rose essence for aroma)
- 2 cups evaporated milk
- 6 small Bombay
onions
(slice thinly)
- 2 in.
ginger
(grated or pounded)
- 4
cloves
garlic (grated or pounded)
- 1 stalk of
coriander
leaf and some mint leaf/pudina (chopped roughly)
- 2 pandan leaf (can be substituted with bay leaf)
- salt to taste
- spices in a pouch: cardamom,cloves and star anise.
- 2 in cinnamon (break into 2)
Preparation
Step 1
Wash rice thoroughly and drain. Set aside. Heat the pot and put in the oil and the ghee/butter.
Step 2
Fry onions,ginger and garlic until slightly brown and aromatic. Add the cinamon and rice. Fry for few minutes until the oil and ghee have combined well with the rice.
Step 3
Pour in the water and milk. Add the spice pouch and salt. Cook until the rice is about 3/4 cooked.
Step 4
Add the coriander leaf,mint leaf/pudina and pandan/bay leaf. Cover the pot with aluminium foil.
Step 5
Put back the lid and place a heavy thing on it. Place a sheet of tin or old pot lid beneath the rice pot to prevent the rice from burning.
Step 6
Let the rice cook for half hour more under very slow fire. Open the lid and foil. Stir the rice and remove from stove.
Step 7
Ready to serve. Garnish with fried cashew nuts, fried onions and raisins if you prefer.
Related recipes
Questions:
---
---
Related video
Recipes