Nasi minyak (plain buttered rice)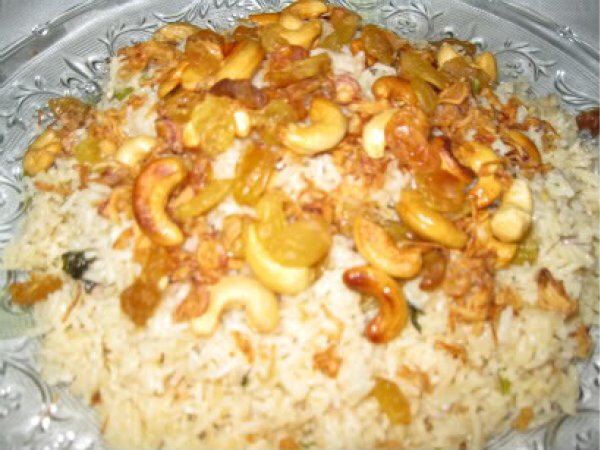 Preparation
Wash rice thoroughly and drain. Set aside. Heat the pot and put in the oil and the ghee/butter.
Fry onions,ginger and garlic until slightly brown and aromatic. Add the cinamon and rice. Fry for few minutes until the oil and ghee have combined well with the rice.
Pour in the water and milk. Add the spice pouch and salt. Cook until the rice is about 3/4 cooked.
Add the coriander leaf,mint leaf/pudina and pandan/bay leaf. Cover the pot with aluminium foil.
Put back the lid and place a heavy thing on it. Place a sheet of tin or old pot lid beneath the rice pot to prevent the rice from burning.
Let the rice cook for half hour more under very slow fire. Open the lid and foil. Stir the rice and remove from stove.
Ready to serve. Garnish with fried cashew nuts, fried onions and raisins if you prefer.
Questions:
You may like
Recipes