Panéed chicken breast
Panéed Chicken Breast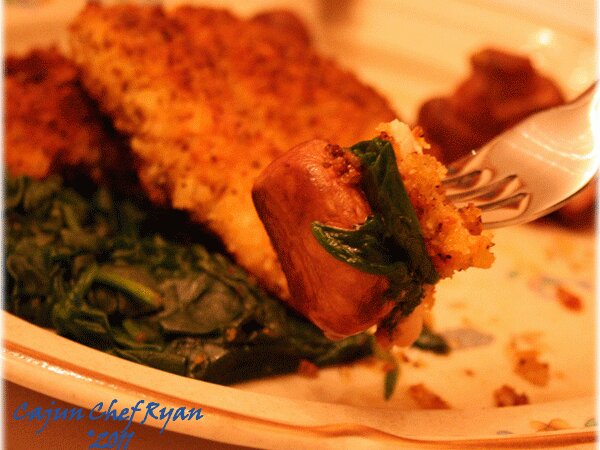 Preparation
One at a time place the chicken breasts inside a zip type bag and then using a meat mallet pound the chicken breasts to an even ½-inch thickness.
Place the Panko breadcrumbs into a medium bowl, in another medium bowl add the beaten egg and the milk to create an egg wash.
When ready to cook the chicken, heat a large sauté pan over a high heat. Then sprinkle and season the chicken breasts with the Finger Lickin Rub, be sure to evenly coat all sides.
One at a time dip the seasoned chicken breasts into the egg wash and then allow excess to drip, and then dredge the chicken into the Panko breadcrumbs, giving it an even coating. Bread all the chicken breasts in this manner and set onto a plate or tray.
Heat the olive oil in the very hot sauté pan and then add two of the chicken breasts and brown evenly on the first side for about 4 to 5 minutes. Then turn the breasts over and brown evenly for another 4 to 5 minutes, or until the chicken breasts are cooked through.
Add more oil after turning if necessary. You may need to turn the heat to medium so as not to burn the chicken.
To Serve: Hold in chicken in a warm 180° F oven until ready to serve. Serve one chicken breast per plate and your favorite side dish.
Questions:
You may like
Recipes