South african yellow rice with baked chicken breast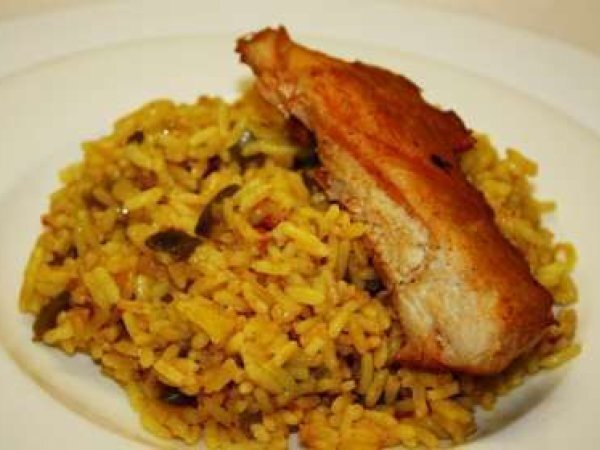 Preparation
1.Marinate the chicken with salt and chilli powder and keep it aside.Wash the rice nicely and keep it aside.
2.Heat oil in the pot , saute the bell peppers and tomatoes just for 3 mts in medium flame ( don't need to cook fully just mild sauteeing is fine) becos the flavours of bell peppers and tomatoes should goes with rice while cooking. If it cooked fully you don't feel the flavour of those items.
3.Now add the washed Par - boiled rice in the pot, stir it well till the oil coats to the rice. ( This par-boiled rice process lot of starch and the cooked rice turns starchy, to avoid that sauteeing the rice in oil).
4.Follow with hot water to the rice, red chilli powder and salt.( here i didn't cooked this rice in pressure cooker so we can check the water while cooking itself).
5.Close the pot with the lid leave it to cook in medium flame it will take bit longer to cook soft n tender.
6.After the rice cooked , if you feel little bit water in the rice means just microwave it till you get fluffy rice or leave it to cook till it turns perfect.
7.Now the yellow rice is ready, bake the chicken in 350 deg F for 10 -15 mts.
8.Now the hot steamed Par-boiled Yellow rice and baked chicken is ready for nice and light dinner.
Questions:
You may like
Recipes