Peas kachuri & dum aloo
Peas Kachuri & Dum Aloo
Luchi is a deep-fried flatbread made of wheat flour that is typical of Bengali cuisine, Assamese, Maithili and Oriya. A typical luchi will measure 4-5 inches in diameter. They are usually served with curries or gravies. If maida is substituted with atta, it is called a Poori. Luchi that is stuffed is called kochuri; kochuri stuffed with mashed peas (koraishutir kochuri) is one notable variety.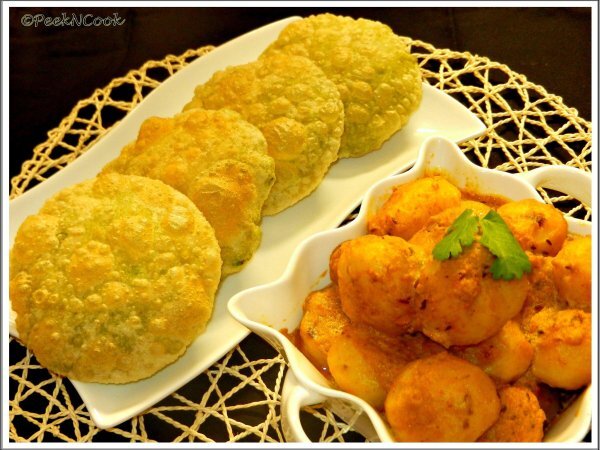 Preparation
Make a paste of peas, ginger & green chili using very little water.
Add coarsely ground roasted cumin coriander, salt & sugar to the peas paste and fry the paste with little water to make a stuffing and keep aside.
Now make a soft dough with maida, little salt, white oil & some warm water and cover it and keep aside for 1 hr. After 1Hr make small balls from the dough and put the stuffing into the balls and roll them with little oil to make small disk. Heat oil in a deep wok and fry the kachuries one by one and put on paper tissue.
Peel the potatoes and prick them and put them into salty water for 1-2 hrs.Heat oil in a pan. After 1-2 Hrs take them out from salty water and fry them in hot oil and put them in a bowl. Now add some cumin & bay leaf in the rest of the oil and fry for a while. Add Chopped tomatoes and some salt to it and cover and simmer to cook the tomatoes.
Add the masala paste(made with poppy seed, cashew, char magaj & ginger ), turmeric, red chili & cumin to it and fry till oil separates from masala.

Add some sugar and fried potatoes to the pan and mix them with fried masala very well.Add the coconut milk to it and cover & simmer it till potatoes cooked.
When the potatoes cooked higher the stove and dry the gravy. When the gravy becomes dry sprinkle garam masala and serve with hot peas kachuri.
Questions:
You may like
Recipes