Pork bourguignon - with apologies to julia child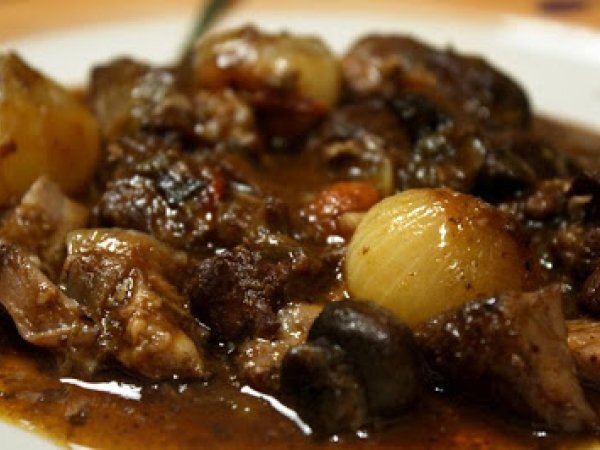 Preparation
Saute bacon with meat until brown, about 20 minutes. Remove 1/2 the meat to make room for aromatics.
Saute aromatics another 5 minutes to soften. Add tomato paste (or sauce), herbs, garlic and flour. Cook 5 minutes.
Pour in the beef stock (or bouillon dissolved in water) and all the red wine you have left. Mix well, scraping bottom of pot to loosen and dissolve all the flavorful brown bits.
Bring to a boil, then transfer to a pre-heated 350 degree oven and bake covered for 1 1/2 hours. Peel and saute Pearl Onions in 2 pats of butter or oil until lightly browned, and now sweetened.
Don't turn too much or they will fall apart - set aside. Slice mushrooms in half; if they are small throw in a few whole, and saute in the same pan as the onions, for about 5 minutes until soft.
Add sauteed onions and mushrooms after an hour and a half of baking Pork Bourguignon, and be careful - everything is hot! Cover and continue cooking for another hour.
After baking for about 2 1/2 hours total, meat should separate easily with a fork. The Pearl Onions and mushroom will be unbelievably flavorful, infused with red wine and beef stock. Serve with boiled red potatoes or rice to soak up all the rich deep-brown sauce.
Questions:
You may like
Recipes