Shrimp with linguine and peanut butter sauce
Shrimp with linguine and peanut butter sauce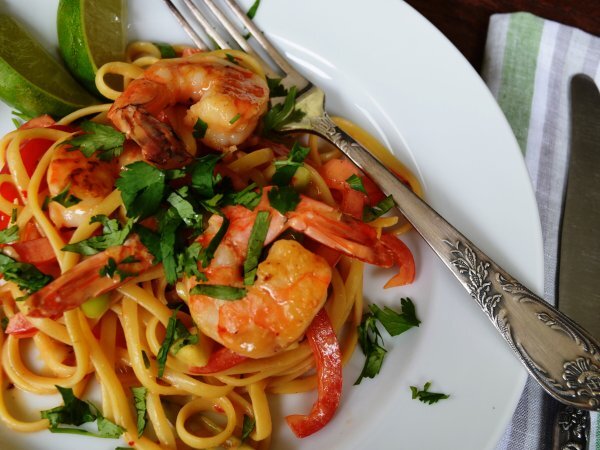 This is a very easy and fast recipe with utmost delicious results. It is a great use for fresh gulf shrimp. I promise you, this dish will be loved by every member of your family, and you will come back to it often. The trick is in the no-cook peanut butter sauce, enriched with spicy chile and garlic paste, and soy sauce. I hope you will enjoy this dish as well as my family and I do.
Inspired by a recipe found in Cooking Light from August 2004.
Ingredients
Peanut Sauce
---
---
1/4 to 1/3 cup water
---
---
1 1/2 tablespoons rice vinegar
---
1 to 2 teaspoons chile paste with
garlic
---
---
1/4 teaspoon
salt
, divided
---
Shrimp and Pasta
---
1 pound large shrimp, peeled and deveined
---
cooking spray
---
8 ounces of uncooked linguine
---
1 red bell pepper, thinly sliced
---
3/4 cup chopped, seeded cucumber
---
1/4 cup thinly sliced green onions
---
3 tablespoons chopped roasted peanuts
---
2 tablespoons cilantro leaves
---
1/4 teaspoon salt, divided
---
4 lime wedges (optional)
Preparation
Cook linguini according to package directions.
To prepare the sauce, combine all the sauce ingredients and stir with a whisk. Use 1/4 cup water and, if the sauce is too thick for your tastes, thin it with the additional water.
To prepare the shrimp, combine with 1/4 teaspoon salt. Sauté in a nonstick skillet coated with cooking spray over medium-high heat for 3 minutes on each side or until done.
To prepare the pasta, combine peanut sauce, shrimp, noodles, red bell pepper, cucumber, and onions in a large bowl; toss well.
Sprinkle with chopped peanuts and cilantro. Serve with lime wedges if desired.
Questions:
Related recipes
Recipes