Spaghetti with mushroom bolognese
Spaghetti with mushroom bolognese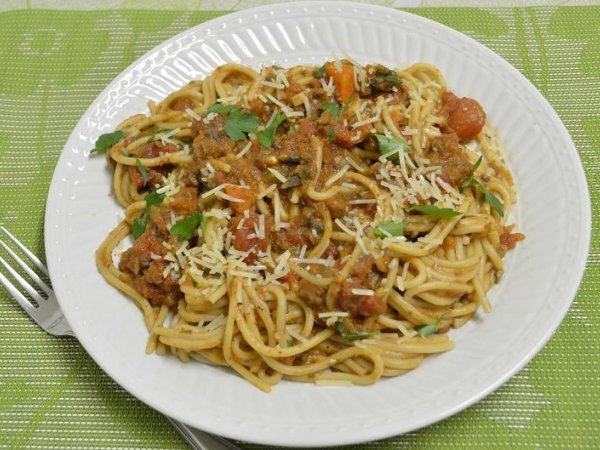 Delicious mushroom sauce over pasta.You wouldn't miss meat at all.
Ingredients
454 g cremini mushroom,broken into small pieces
---
---
---
---
---
4 cups canned unsalted diced
tomatoes
with juice
---
1/3 cup low sodium tomato paste
---
1 tsp dried italian seasoning
---
1/4 tsp ground nutmeg
---
1/4 cup wine
---
1/2 tsp salt and fresh black pepper
---
1/2 cup unsweetened almond or 2 % milk (optional)
---
10-12 oz gluten free spaghetti
---
3 tbsp chopped fresh parsley plus additional for garnishing
---
1/3 cup grated parmesan cheese
Preparation
In a food processor, pulse mushrooms until finally chopped (mine actually looked shredded).
In a large wide pan, heat oil on medium. Add mushrooms,garlic, onion, celery and carrot and saute stirring occasionally until all liquid evaporates.
Add wine and let this simmer until well reduced down and hardly visible.
Add tomatoes, tomato paste, italian seasoning, nutmeg,salt and black pepper, and leave this to cook down and reduce for 15 minutes until the sauce thickens.
Stir in milk gradually, stirring and cooking for a minute. Remove from heat.
Mean while cook pasta al dente according to package directions. Drain and return to the pot.
Add mushroom bolognese and parsley.
Toss to coat, Garnish with cheese and parsley.
Questions:
Related recipes
Recipes