Steak and brussels sprouts stir-fry
This classic recipe is presented with a unique twist in that it features Brussels sprouts. With only eight ounces of steak for four servings, it is very low in fat and calories. The jalapeno pepper and ginger adds spice, while the carrots add a touch of sweetness to this dish.
Based on a recipe found in "Bon Appetit", March 2013 edition.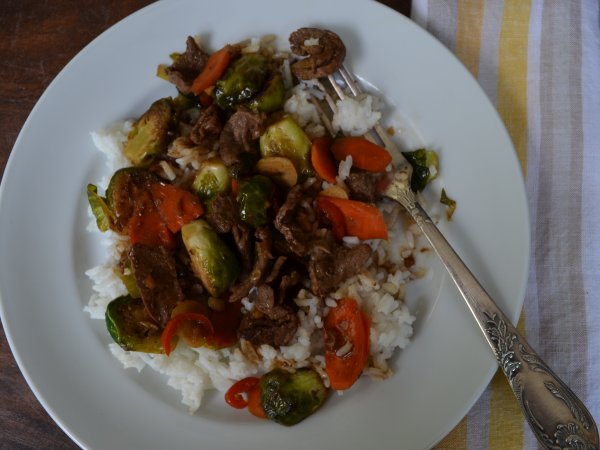 Recipe type:

Main Dish

Number of serving:

4 servings

Preparation:

20 min

Cook time:

18 min

Ready in:

38 min

Difficulty:

Easy
Ingredients
3 tablespoons
oyster
sauce
3 tablespoons reduced-sodium soy sauce
2 tablespoons unseasoned rice vinegar
4 tablespoons
vegetable oil
, divided
1 pound Brussels
sprouts
, halved
8 ounces flank or skirt
steak
, thinly sliced against the grain
Kosher
salt
4 green onions, whites chopped, greens sliced
3 garlic cloves, sliced
2 tablespoons chopped and peeled fresh ginger
2 medium carrots, peeled, thinly sliced on a diagonal
1 jalapeno pepper, sliced into rings
Steamed rice (for serving)
Preparation
Step 1
Mix oyster sauce, soy sauce, vinegar, and 1/4 cup water in a small bowl; set sauce aside.
Step 2
Heat 2 tablespoons of oil in a large skillet over medium-high heat. Add Brussels sprouts and cook, tossing occasionally, until golden brown, about 4 minutes. Cover and cook until crisp-tender, about 3 minutes longer. Transfer to a plate; wipe out the skillet.
Step 3
Season steak with salt. Heat 1 tablespoon of oil in skillet over high heat until just beginning to smoke. Add steak in a single layer; cook until browned, about 3 minutes. Turn and cook until nearly cooked through, about 30 seconds. Add to Brussels sprouts.
Step 4
Heat remaining 1 tablespoon of oil in skillet. Add whites from the green onion, garlic, and ginger and stir until fragrant, about 1 minute, adjusting heat as needed.
Step 5
Add carrots and jalapeno pepper and cook, tossing occasionally, until carrots are slightly softened, about 2 minutes.
Step 6
Return Brussels sprouts and steak to skillet and add reserved sauce. Cook, tossing occasionally, until sauce is thickened, about 3 minutes. Serve with steamed rice and garnish with remainder of the green onions, serves 4.
Step 7
Visit http://smellofrosemary.blogspot.com/
Related recipes
Questions:
---
---
Related video
Recipes
Related articles
Quintessentially British traditional and tasty fish and chips