Tips to light & crunchy fish & chips
By
blackswan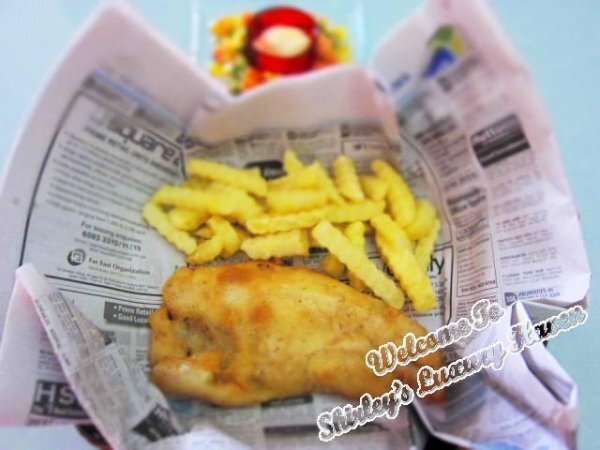 Recipe type:

Main Dish

Number of serving:

1 servings

Preparation:

15 min

Cook time:

5 min

Ready in:

20 min

Difficulty:

Easy
Ingredients
1 Dory fillet
½ cup Self-raising flour
½ tbsp Corn flour
½ Egg
1 tsp Cooking oil
½ tsp
Salt
½ tsp Pepper
Water for batter
Oil for deep-frying
Corn flour for coating
Sides:
French fries
Mixed
vegetables
(buttered)
Tartar sauce/Mayonnaise
Preparation
1) Soak Dory in salt water for at least 30 mins. Drain & pat dry. Season with pinch of salt/pepper.

2) Mix self-raising & corn flour, oil, salt & pepper. Beat egg & pour half into flour mixture.

3) Add ice water & cubes slowly & whisk into a smooth batter. Adjust water accordingly.

4) Heat oil. Ensure oil is hot enough for deep-frying by sticking your chopsticks into wok. Temperature is right when you see bubbles.

5) Deep fry the fries till golden brown, leaving 1 behind for testing the batter. Drain & set aside. Meanwhile, steam or microwave the mixed vegetables & add butter for flavour.

6) Tip: Test out to see if you're happy with the batter by coating 1 french fries with corn flour, then dip into batter to deep-fry.

7) If you're satisfied, do the same with the Dory fillet. For that extra crisp, I'd always adopt the Chinese way of returning the food into hot oil for a quick dip just before serving! Viola, the result is a light & crispy seafood dish to go with your sides!
Related recipes
Questions:
By
blackswan

---
---
Related video
Recipes
Related articles