Vendakka Puli / Okra/Ladies Finger Tamarind Curry - Kerala - Palakkad Style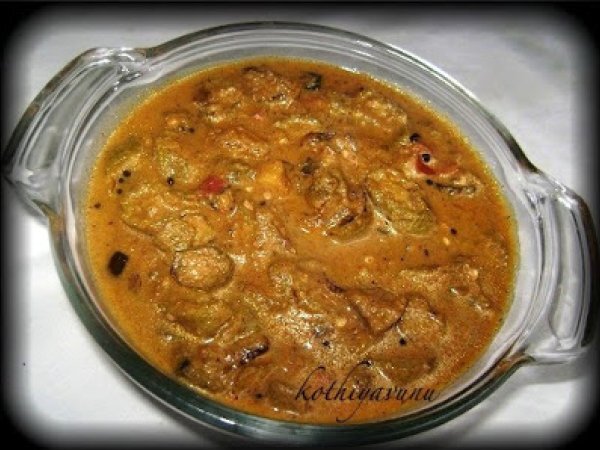 Preparation
Chop the ladies finger/okra/vendakka diagonally and keep it aside.
Soak tamarind in hot water. Squeeze out the extract or dilute the pulp in 1 cup warm water and keep aside.
Grind coconut,onion pieces coriander powder and red chillies to a fine paste.
Heat little oil in the pan and add the chopped ladies finger/okra/vendakka pieces into the hot oil and fry for 5 minutes or until the stickiness disappears.
Add the chopped onion and tomatoes and saute until they turns to translucent.
Pour the tamarind extract and 1 glass water and turmeric powder in the pan and let it cook until the vegetable is cooked.
Add the ground coconut mixture,salt and let it boil for 5 minutes.
Heat oil in another small frying pan; Splutter mustard seeds and fenugreek seeds.
Fry the onion and garlic pieces till golden brown and saute curry leaves.
Pour this seasoned mixture into the ladies finger curry.
Questions:
You may like
Recipes