Butternut-squash brioche - brioche alla zucca in italiano a seguire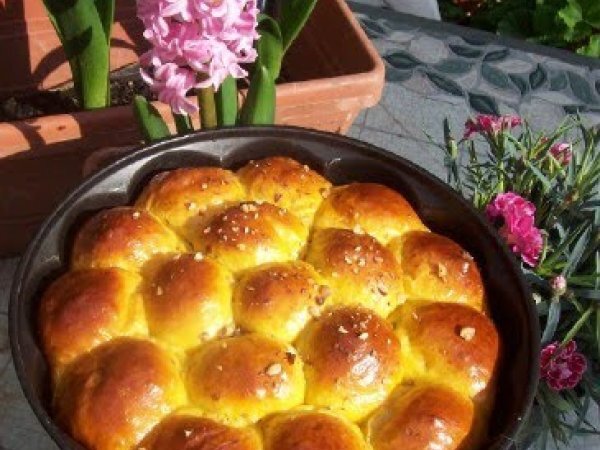 Preparation
Place flour, eggs and egg yolks, milk, squash puree, spices, yeast, and salt in the bowl of a stand mixer fitted with a dough hook. Mix at low speed for about 4 minutes. It is normal for the dough to be quite stiff at this point, but if the dough is too dry to come together, add just enough water to allow it to do so.With the mixer in medium speed, add the brown sugar very slowly, in 5 or 6 increments. Mix for about two minutes following each addition.
Continue to mix in medium speed until the gluten reaches full development, you can stretch a paper thin, translucent windowpane from the dough.Turn the mixer back to low speed and add the butter all at once. Mix for a minute in low speed, then turn the mixer to medium speed and mix until the butter is completely incorporated.
Transfer the dough to a buttered, covered container. Ferment at warm room temperature for one hour, then refrigerate overnight. Divide the dough into 36 pieces of approximately 50 grams each. Degas each piece. Form each into a tight ball by placing it on the counter with your cupped hand loosely around it, and moving your hand in a tight circle several times.For large round loaves, lightly oil two 8- or 9-inch cake pans and line their bottoms with parchment paper. Place 12 or 13 dough balls into each 8-inch pan, or 17 or 18 in each 9-inch pan. Any leftover balls can be baked as individual rolls, either on a parchment-lined baking sheet or in small, oiled brioche or tart tins.
Brush the dough lightly with egg wash made from one beaten egg. Cover and proof for about an hour and 45 minutes at warm room temperature.Meanwhile, preheat the oven to 380F.Before baking, brush the dough again, lightly but thoroughly, with egg wash. Sprinkle with chopped pecans if you like.
Questions:
You may like
Recipes