Chocolate mint cookies with fresh mint leaves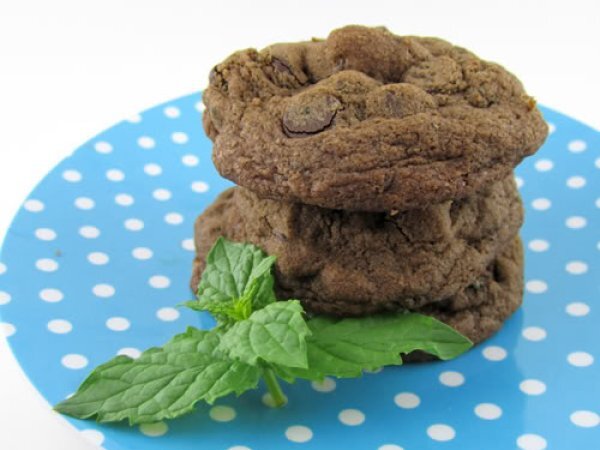 Recipe type:

Other

Number of serving:

2 servings

Preparation:

30 min

Cook time:

20 min

Ready in:

50 min

Difficulty:

Very Easy
Ingredients
- 1 2/3 C all-purpose flour
- 1/3 C unsweetened
cocoa
powder
- 1 tsp baking soda
- 1/2 tsp fine sea
salt
- 2 sticks
butter
, room temperature, softened
- 1/4 C granulated sugar
- 1/2 C packed light brown sugar
- 1
egg
, room temperature
- 2 1/2 packed tablespoons Fresh
Mint
, chopped fine
- 1/2 C semisweet chocolate chips
- 1/2 C dark chocolate chunks or chips
Preparation
Step 1
Preheat the oven to 375 F and line cookie sheet with parchment paper.
Step 2
Sift together the flour, cocoa powder, baking soda and salt.
Step 3
In a separate bowl, cream the butter and both sugars together until light and fluffy.
Step 4
Add in the egg and mix until smooth. Stir in the finely chopped mint leaves.
Step 5
Add the dry ingredients in two steps, scraping down the bowl after each addition. Mix until just combined, don't over mix.
Step 6
Stir in the chocolate chips by hand.
Step 7
Scoop by the rounded tablespoon onto parchment lined cookie sheets. Leave a good amount of space, at least 2 inches between cookie dough balls because these may spread a bit.
Step 8
Bake about 8-9 minutes, removing from the oven when the cookies appear just set. For a soft cookie, make sure to not over-bake.
Related recipes
Questions:
---
---
Related video
Recipes
Related articles
Impress your friends with these St Patrick's day recipes!